Keen to get our Summer Holidays in Edinburgh off to good start,we thought we'd head out to explore everything the city has to offer with Bright Bus Tours. Caroline and I really have our hands full – with six kids between us and a summer to fill – so we were delighted to be invited to experience the newest (and brightest) bus company in town. This is the perfect season to explore Edinburgh as a family, so I thought I'd share our itinerary with you for our perfect family day out in Edinburgh!
Board at Waverly Bridge
We started our day on Waverly Bridge as it's a great central meeting point: Caroline was bringing two of her boys from Bruntsfield whereas I was bringing my gang from Trinity, so it was an easy one for us to find each other.
We hopped on the Bright Bus Tour and headed straight to the top of the bus to plug in and listen along to the commentary. The kids were delighted to find that they could switch between languages and I was happy to learn a little more about the city. It was nice to be able to relax with the kids and point out all the sites along the way without worrying about the crowds below!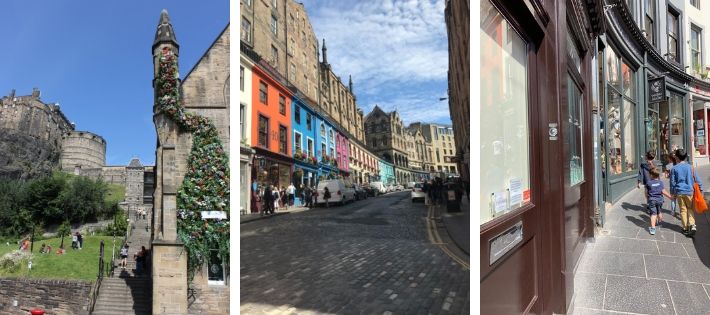 Hop off at the Grassmarket
We chose to hop off at the Grassmarket and meander up Victoria Street looking at the myriad of shops. This is a must for any Harry Potter fan and we literally had to drag the boys away from the joke shop with a promise of food and the threat of an unforgivable curse!
Lunch at Oink
Nestled half way up Victoria Street, Oink is a great place for a wee pick me up. Their 'Piglet' roll is perfect for kids and helped fill the kids bellies for the afternoon ahead. Whereas I was in heaven with my 'hog in a box' aka a heap of pulled pork mixed with stuffing and apple sauce!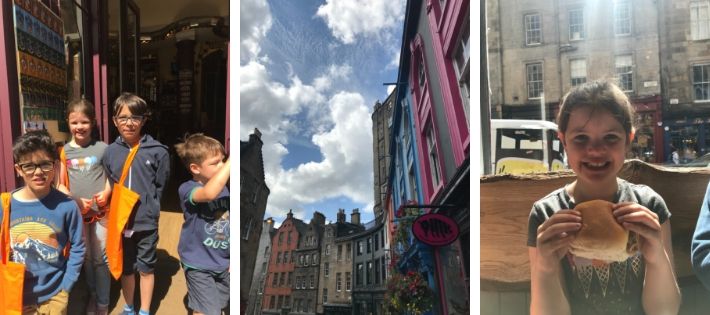 Make a decision
At the top of Victoria Street there's a couple of options – either turn left and head up to the Royal Mile with the lure of the Castle, Camera Obscura, The Real Mary King's Close, or even the array of Street performers – or turn right and visit Greyfriar's Bobby and pop into the National Museum of Scotland!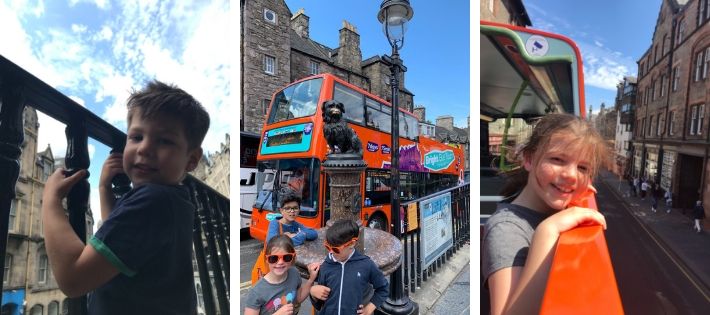 On this occasion we headed to see Bobby but also visited a couple of sculptures on the Oor Wullie Bucket Trail. These are dotted all over Edinburgh this summer (until August 30th) and with 60 to collect around the city – the kids are keen to get them all! The Bright Bus Tour stops are (rather conveniently) positioned close to many of these statues, and with a bus along every 10 minutes or so, it was really easy to hop on and off to collect a fair few!
Dynamic Earth
We headed to Dynamic Earth for the afternoon as we knew it was something all the kids would enjoy. Thomas was the youngest (at almost 4) all the way up to Magnus who is 9 but Dynamic Earth turned out to be perfect for the age gap. On arrival, the boys headed straight for the Lego whilst Katie learned a bit more about plastic pollution in the ocean.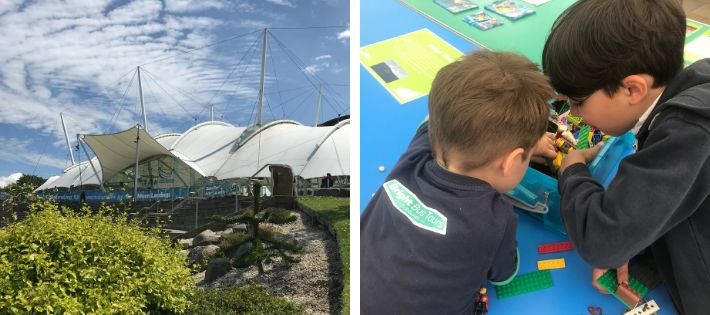 The displays throughout Dynamic Earth are interactive and are just pitched perfectly for all ages. So whilst I could reflect on how the Earth's Journey has been incredible, Thomas was utterly delighted by the shaking floor, Katie just had to stick her hand in a hole in the giant iceberg, and Walter got to remind each and every guide on our journey that 'we weren't ACTUALLY in a time machine!' The staff were brilliant with the kids along the way and it was really nice for the kids to burn their energy whilst (hopefully) learning something new. Visitors also get 15% discount when they present a Bright Bus Tour ticket which is an added bonus!
Grab a pick me up
With grey clouds forming outside, Caroline and I decided it was time for coffee before heading back out. There's an array of food on offer at Dynamic Earth so the kids were delighted with cups of popcorn (and a giant scone for Thomas) before heading out into the rain (typical Edinburgh!).
Explore the mile
Despite the rain, we headed up Holyrood Road and past Moray House back onto the Royal Mile. The Canongate has some great wee gems and I've found that I always spot something new. On this occasion we took the kids to see the Tolbooth Market (home of some amazing ice-cream) before deciding Thomas really did need to head home!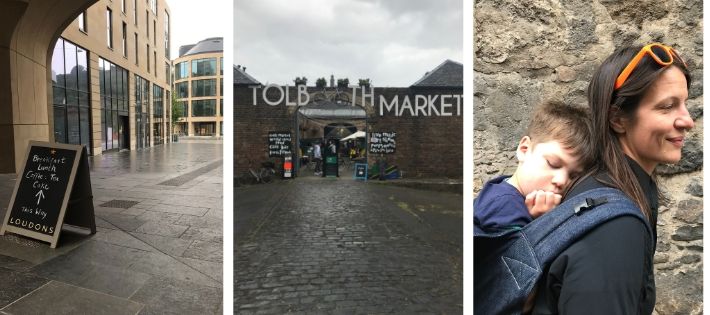 The nearest Bright Bus Tour Stop was literally 50 metres away and by the time we had reached it – there was a bus waiting! We found all the drivers to be bright, and welcoming throughout the day. All happy to chat to the kids and welcome them on – at no point did we feel rushed or like they weren't equally enjoying the tour! Although the city has some great drivers, I did wonder whether they had been specially selected for their cheery demeanours!
Undettered by the weather, the kids headed up to the top of the bus with Caroline whilst I stayed below with a sleeping Thomas. I thought we had passed the days of napping – let alone napping in the sling – so it really was a sign of how much energy he had expended throughout the day!
Other useful info
The Bright Bus Tour stops can be found all over the city and are denoted by a little orange sign which says Bright Bus Tours. The buses themselves really can't be missed given that they are literally bright orange – they certainly stand out! You can hop on and off as much as you'd like so it's a great way to save on tired feet but still see loads of the city. The commentary is specific to location so if you don't want to miss anything – just hop back on where you got off!
Price wise it's the best value tour in Edinburgh at £10 for adults, £6 for kids, and £29 for a family ticket – although under 5s are free! You can also purchase tickets on the website here so you can actually have the tickets ready on your phone. For the ease of getting around the city, with a heap of kids, whilst still being able to enjoy adult company – it's worth a lot more!
P.S. This is a sponsored post but all thoughts, words and opinions are our own. We're really grateful for the support of Bright Bus Tours and hope that you'll support them too!