If you're anything like us, this time of year is all about a wander up town to eat a Nutella crepe and a scorching hot chocolate smothered in marshmallows. While the usual markets that supply this aren't an option this year (2020 strikes again!), it has given us the opportunity to search for festive alternatives in the city centre by Edinburgh food institutions and local small businesses.
Our chosen treats below are all centred around Princes Street in the city centre, and could be a nice accompaniment to our Christmas tree trail – see previous blog post. Okay, time to prepare yourself for a mad sugar rush just watching/reading this!
1.Hot Chocolate baubles – £8.75 each
Waldorf Astoria, West end of Princes Street.
This place is soon becoming our favourite spot in the city to take Wren to to see their Christmas decorations, so we thought we would really treat ourselves by sitting in at The Peacock Alley lounge. A special mention to the staff of the hotel, who were super friendly and welcoming, and kindly gifted Wren an activity pack to keep her busy.
There are four hot chocolate baubles to choose from, so we decided to go with Rudolf the Reindeer with Maltesers, and Snowy the Snowman with Oreo cookies. Firstly, I would question anyone who can resist taking a photo of these as they're so sweet and served in a special Waldorf Astoria Edinburgh mug. Not only did they taste delicious, the experience of pouring hot milk and watching them burst open is such a treat for all the family. With Wren only being two years old, she did need some help to spoon the goodies off the top, but she loved the whole experience and is now constantly asking us for 'the snowman drink!'
Although the baubles are only available to enjoy inside with table service, The Caley Bar shop to the right of the entrance is selling the baubles in packs of two or four. They really would make the perfect treat for that last hot chocolate on Christmas Eve, for both big and littler kids – we've decided it will be our new tradition!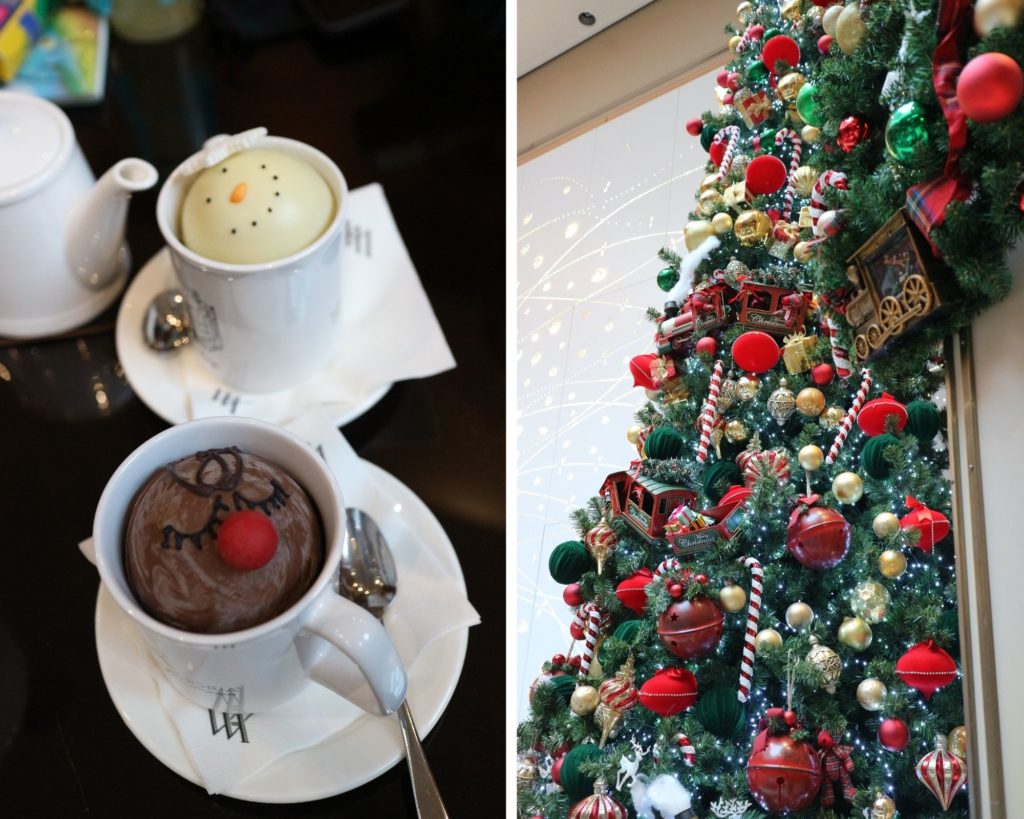 2.Chocolate and dried strawberry eclair – £1.50
The Chocolate & Pastry Bar, Queensferry Street.
Very new to the Edinburgh scene, as in three weeks ago new, this little shop is full of chocolatey goodness, all created by an Italian chef Chiara. Although there weren't any explicitly festive treats to eat there and then, there were lots of hot chocolate bombs to purchase and enjoy at home. We chose a chocolate and dried strawberry eclair as it reminded us of Santa hats, and it was a super tasty (and slightly messy!) delight. This place is a very welcome addition to the city centre and we can't wait to see more of them.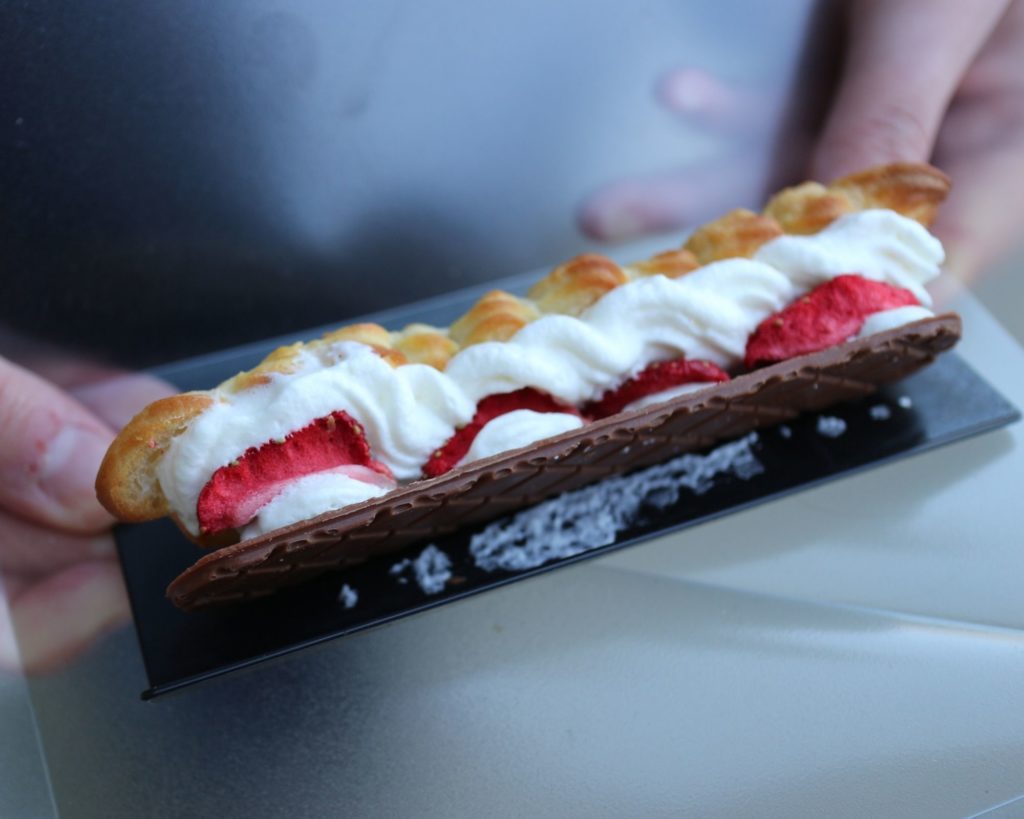 3.Chocolate orange Christmas tree cupcake & Nutella Rudolf Macaron – £3 & £2 (Vegan)
Naked Bakery, Hill Street.
Bravo to this beautiful bakery for bringing the most delicious vegan and plant-based treats to the city! The cafe itself has a lovely atmosphere and Wren was a particular fan of the purple flower walls. Every baked good here is very 'Instagrammable' and we couldn't believe how tasty the flavours were. We'll be coming back for their Mac n cheese for sure!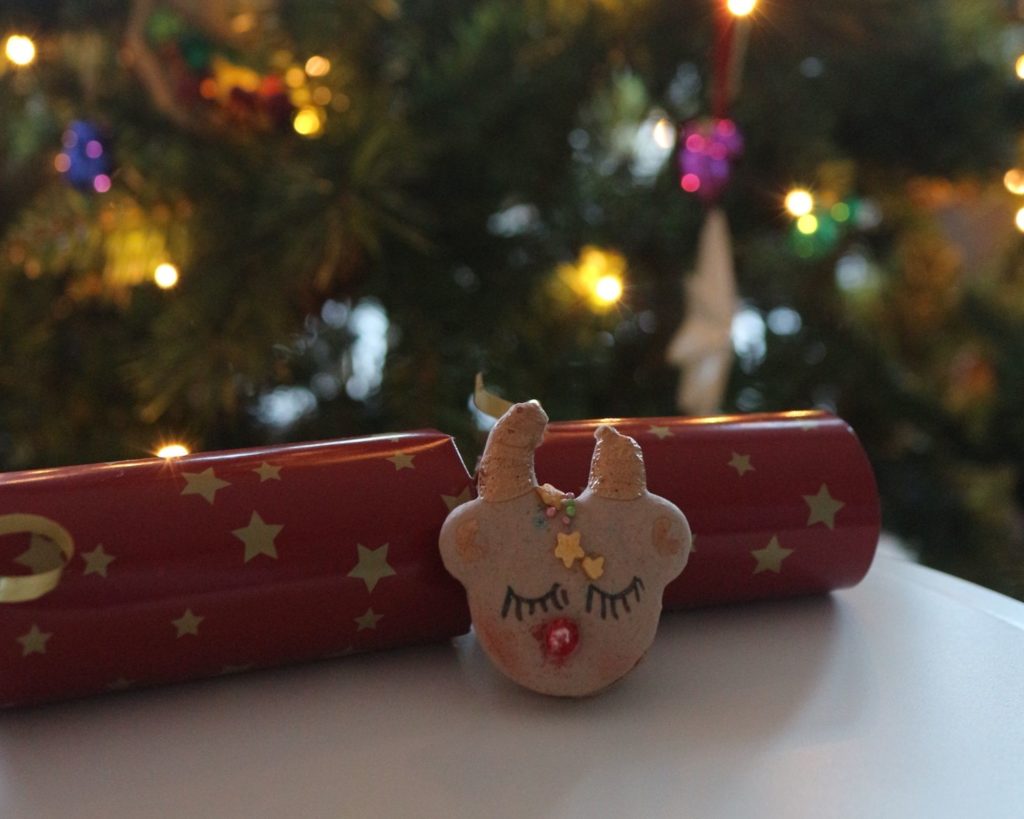 4.Red Brick Seasonal Espresso – £2.70
Wellington Coffee, George Street.
One for the adults this time, and an essential for getting through the festive period, this little cafe is offering a seasonal blend. Roasted by Square Mile Coffee, this espresso has notes of pear, almond, buttercream and caramel. Wellington Coffee isn't the most toddler-friendly coffee shop, as it is very tricky to navigate a buggy down the stairs, and very much provides a quick, 'no messing around' service. It is in a great central location though and their coffee is one of the best in the city.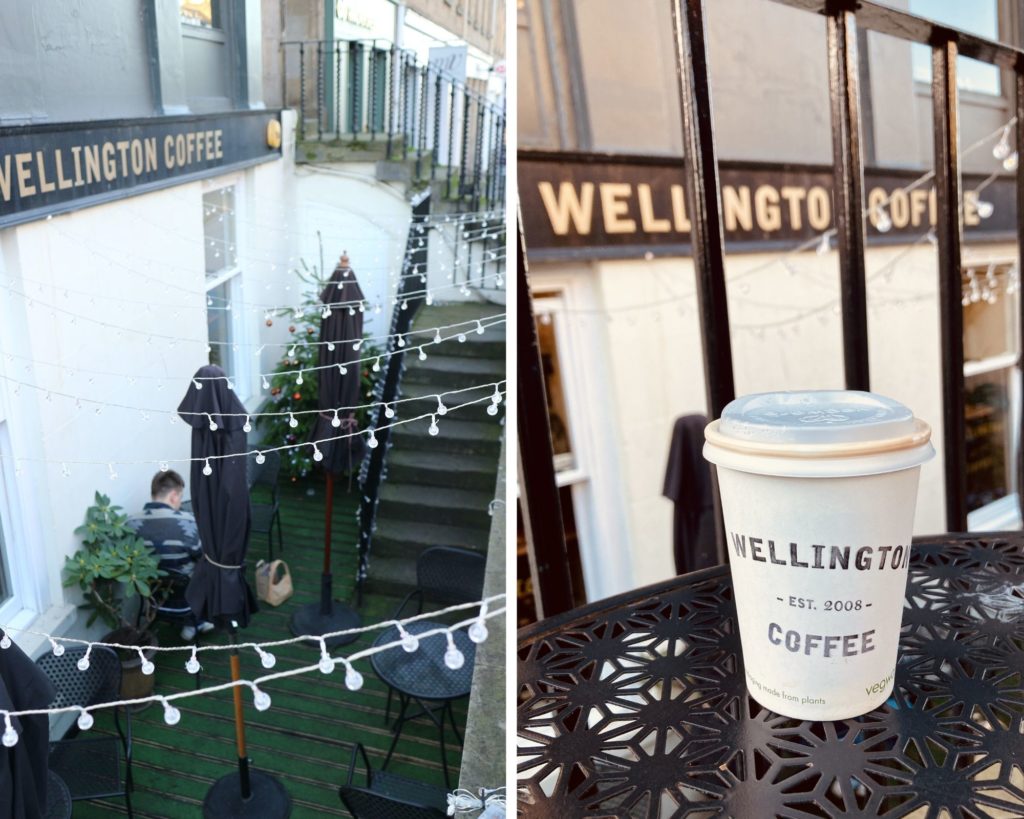 5.'Festive Fill Your Hole' bagel – £5-ish
Bross Bagels, Waverley.
Let's address the '-ish' price first of, as these bagels are proving so popular that they've been sold out on TWO separate visits to the shop, so we didn't actually have a chance to try the festive special. It is filled with turkey, melted smoked Applewood cheese, bacon, hot pick jalapeño slaw, cranmayo and the showstopper ingredient sage and onion latke, all served on a pretzel bagel. Is your mouth watering too?!
Although we didn't mange to try the festive bagel in time for this video, we couldn't resist stopping for a late lunch anyway. If you're looking to have more luck than us – we'd recommend getting there early or trying to prebook through their website.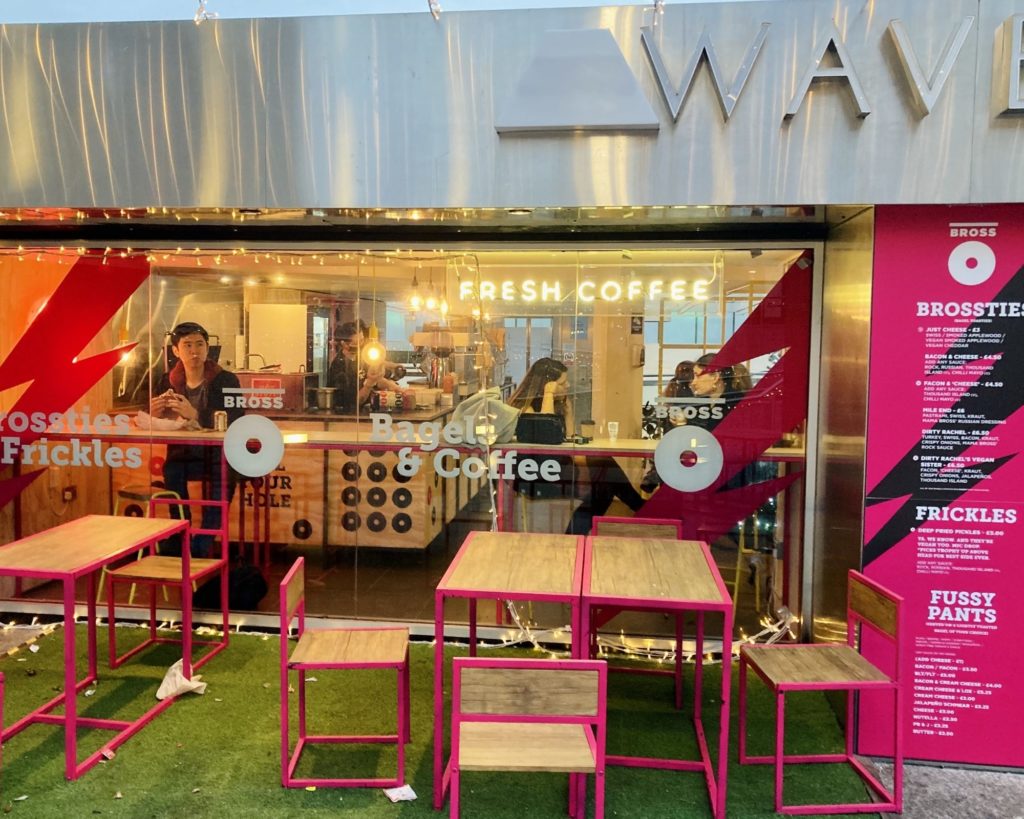 6.Mince pie & hot chocolate – £1 & £4
Christmas Chalet at The Dome, George Street.
I mean, it would have been wrong of us not to make this our last stop! The team at The Dome have opened up a Christmas Chalet, which is to the left of the main entrance, and is open 11am-6pm every day. It has a good selection of hot drinks, including mulled wine, and has delicious warm mince pies. It is a great addition to the take out 'festive' scene, and it was so lovely to see families grabbing something to go, taking that 'must have' photograph in-front of the decorations, and then sitting in St Andrew Square under the lit archways. Family time looks very different this year, but this makes a perfect alternative.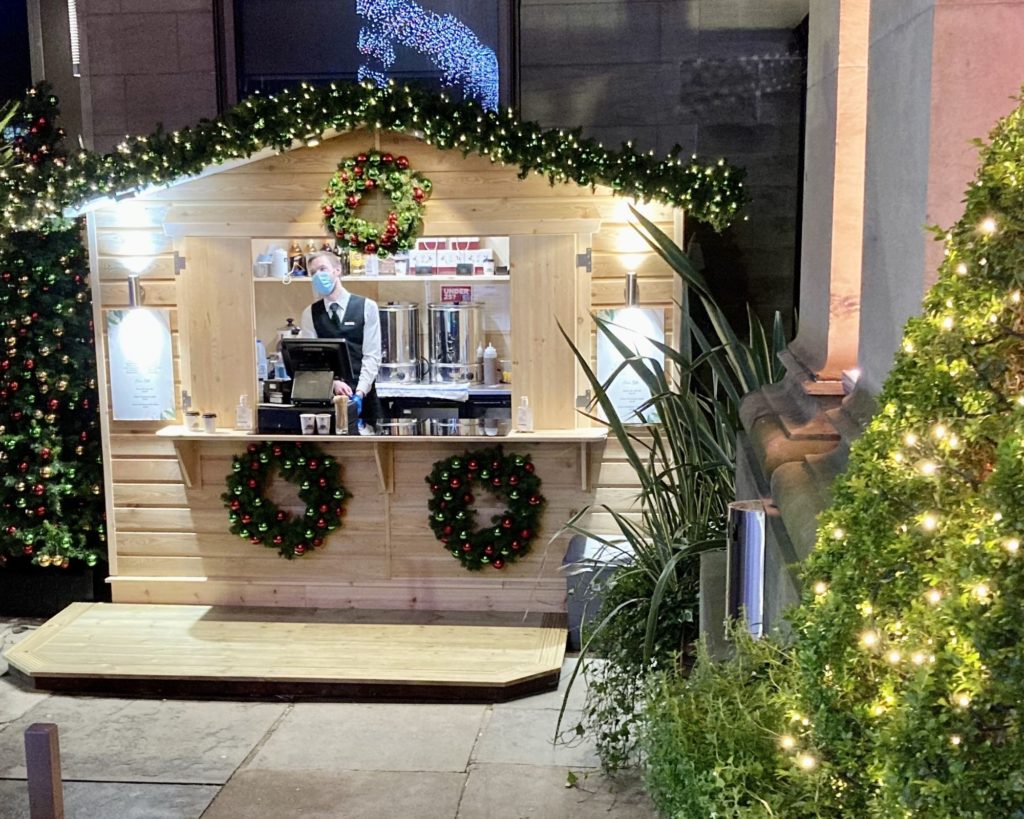 Every item was purchased with our own money, and we hope this has inspired you to continue to support local businesses. We are so lucky to have so many gems in Edinburgh!
Your support on our Youtube channel is greatly appreciated so please hit subscribe! Also follow Emily on her Instagram @wrenyc for lots of play at home ideas with toddlers and more of her daily life in Edinburgh.