When Thomas was four months old, I took part in the Real Nappy Project run by a local organisation, Changeworks. Operating within Edinburgh and the Lothians, they provide trial and lending kits so that parents can try out real nappies alongside 'Nappuccino' mornings where parents can find out more about using real nappies and receive support from a team of volunteers.
Thomas' skin had been reacting badly to disposable nappies, and keen to save money I decided to give the trial a go. It took me less than two weeks to be convinced that changing to 'real nappies' was the right thing for us as a family. Sadly, the Council has changed it's funding priorities and the future of the project is very uncertain. Changeworks are hopeful that the subsidies for the lending and starter kits will continue, but nothing is certain at this point. If you're keen to try out Real Nappies, or attend one of their Nappucino events – now it the time to do it!
After writing about the money we saved on the trial, Changeworks kindly offered to include us in their feature in Edinburgh Families Magazine this year (page 15 if you have a hard copy!). I'm so sad that having seen all the handwork that has gone into this project, the council can't see to supporting a venture that not only supports the environment but offers families a cost effective alternative to nappies.
I was obviously delighted to be included in their article, but a bit nervous after they asked for a photo of Thomas and me. Whilst I know my way round a DSLR, I'm usually behind the camera rather in front of it so I decided to turn to a professional for some help and thankfully, Anna Moffat responded to my cry and offered to take some photos for me.
Anna is an Edinburgh based photographer who specialises in newborns, babies and children. As a Mum of three beautiful children, I knew she would be more than up for the challenge of taking pictures for the article so I was beyond relieved she had agreed to help!
After chatting via email, we decided it a 'real life' photo would be better so we arranged for Anna to come to my home for the shoot. I was a bit worried about the lack of natural light in my house but Anna arrived with her huge lights and proceeded to amaze all three of my kids with them!
I found Anna to be instantly likeable and quickly felt at ease. I'm not sure that many people are comfortable having their photo taken, but I think it's really important to not feel awkward. Rather than putting Thomas and me into an unnatural pose, I liked that Anna's suggestions all felt quite natural – and I could simply interact with him as I normally would. I felt much more sure of myself as a result and could just focus on Thomas which was definitely preferable to feeling like a plank!
Unfortunately, the magazine could only feature one of her beautiful photographs – and had to crop it! I'm therefore delighted that I can share some of the other photos and show off Thomas' nappy: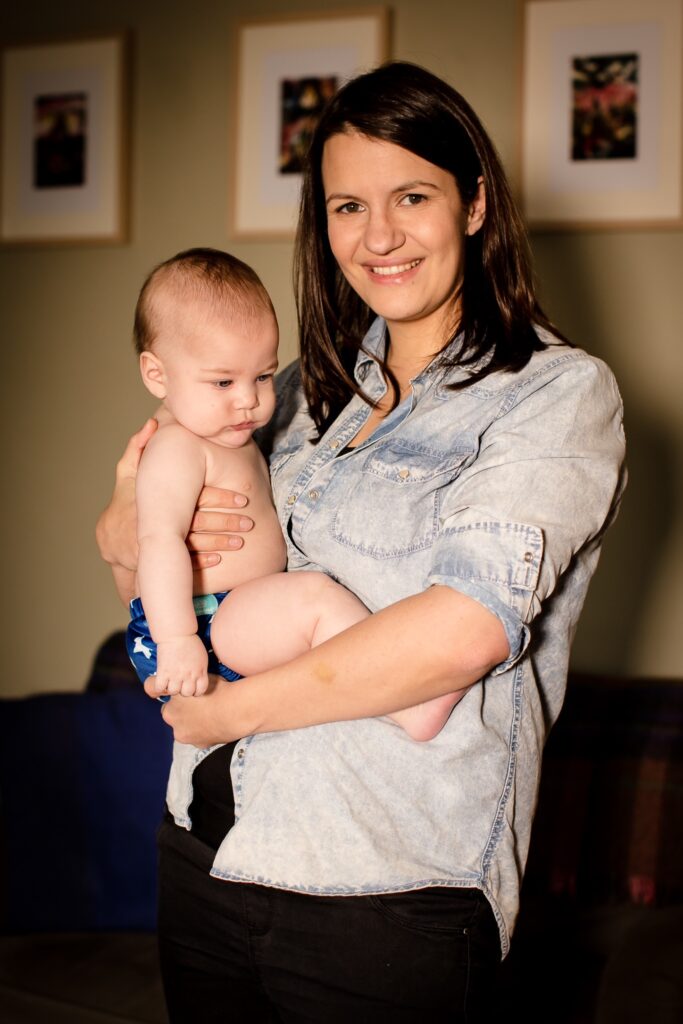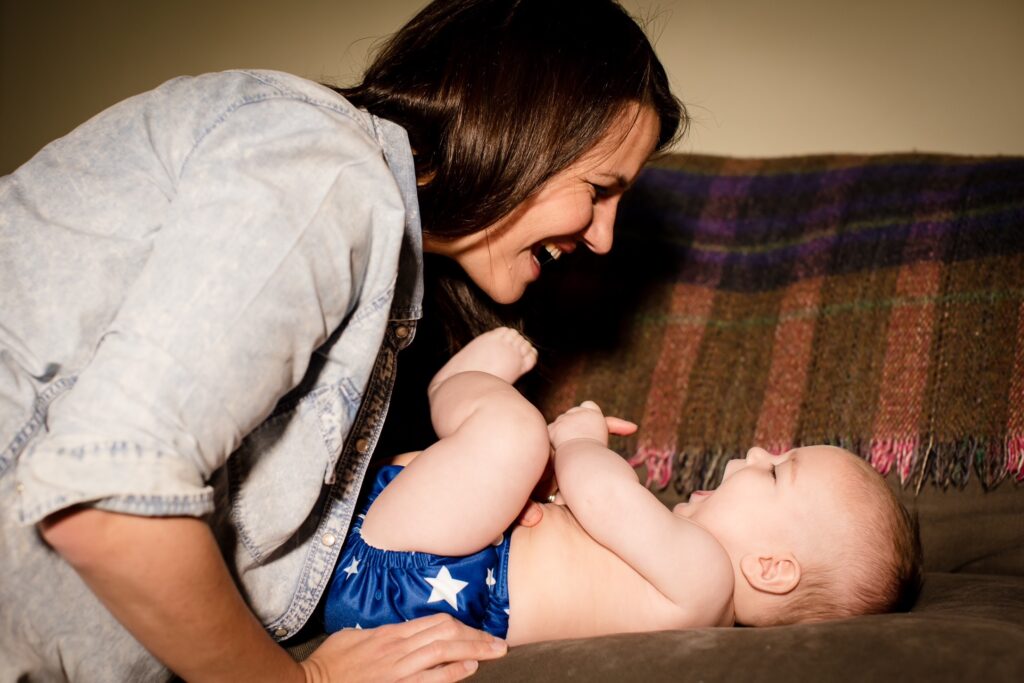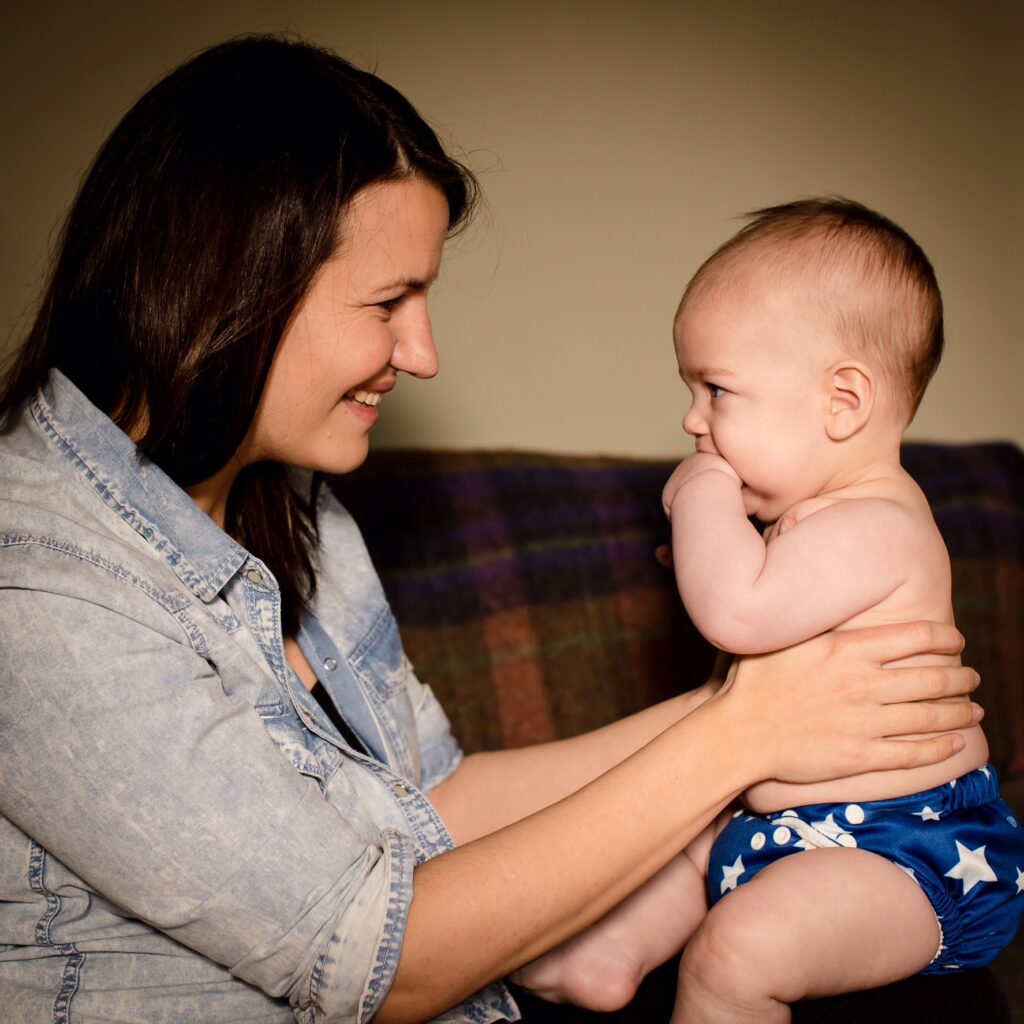 PS. What I hadn't told Anna when arranging the session, was that our kitchen was still half decorated and we had stuff EVERYWHERE. In the end, I needn't have worried because we just stayed in the living room but the day before the shoot, I took the kids on a really long walk and Mike got painting! So actually – I got lots of nice photos AND a tidy house. Total win.
PPS. If you've got the time please do check out Anna's website, beautiful Instagram feed or even her Facebook page. If you're based in Edinburgh and looking for a family photographer – I could not recommend her more highly.