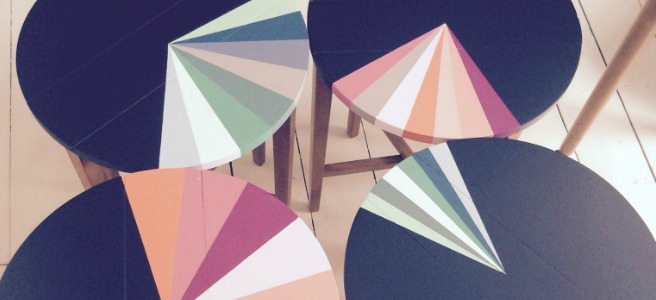 Ocean Terminal is an asset on a rainy day as somewhere for the kids to run around. There's so many of those ride on machines that usually I don't even have to venture into soft play to entertain Katie! I generally just enjoy grabbing a coffee and then wondering round looking at the shops, so I was happy to see the Scottish Design Exchange appear and have since really enjoyed snooping round from time to time.
The Scottish Design Exchange is a concept store, bringing artists and designers together in one retail space. No commission is added so you pay a fair price and whatever you pay goes directly to the artist or designer. My husband Mike, is a sculptor and in an ideal world would spend all his time producing new work. The thought, time and soul that goes into producing art can be vast and I think it's rare that artists really get back the true value of their art. Commission particularly can be astronomical so I am hugely impressed with this venture.

One design that really caught my eye was by Happy Retro Furniture – I had only seen anything like it in magazines and it had certainly been out of my price range. It stuck in my head enough for me to look it up some time later at home and I'm happy to say that after getting in touch with them, they were happy to answer some questions:
Interview with Jen
What can you tell me about yourself?
I am Jen Felton aged 32, mum to Noah 5 and Sam 1. Happy Retro furniture came to life in 2012, when I spotted a cute, retro dressing table and went a bit crazy on it with some left over paint! I actually remember using my son's Postman Pat book to create the straight lines (my tools have improved since then!). I sold that piece pretty quickly and it made me realise that that people were looking for pieces of furniture that were a bit different.
What prompted you to start your own business? Was it something you always wanted to do?
I had always dabbled in arts and crafts and have a passion for interior design. I don't think it was until I started working with furniture that I realised how much I enjoyed transforming the pieces and giving them a new life. What I enjoy most about my work is the mix of old furniture with contemporary design. I need to remain flexible, as I am at home with my youngest. Although our house is often piled high with coffee tables and cupboards waiting to be transformed, I can work in the evenings while the wee ones are in bed and I also have two days during the week to concentrate on my business.
Can you describe your ideal home?
Basically, mine, but without all the Lego!! I love period features and also a lot of white. I like the idea of a house being a blank canvas in which to display beautiful things. By beautiful things, I mean anything from a 50p vase from a charity shop, to a painted sideboard. I love for colour, pattern and texture to be brought into the home through furniture and objects that hold lots of character.
What sort of place do your think your designs fit?
I'd like to think that my designs can fit into a variety of places. I've seen my pieces in quite contemporary, minimal settings, as well as in beautifully cluttered homes. I think if someone appreciates my colourful, crazy designs, they are going to make the piece work well in their home.
Does painted furniture standup to kid's wear and tear?
I think if you can treat furniture with respect, it will survive (I know it's hard explaining that to a 3 year old with sticky chocolate hands!). I use eggshell paint on my furniture, which is designed to be hardwearing. I also usually coat furniture with a polyurethane matt varnish that adds an extra layer of sturdiness!
Is there anything you can do to protect it against kids?!
Lock them up! A couple of my pieces have reinforced glass tops, which further protects the design.
Where are your designs available?
My designs are currently available at the Scottish Design Exchange at Ocean Terminal. I have been very privileged to be involved with this initiative and it has enabled artists to sell their work in a commercial environment, without the high rates of commission that are usually incurred when selling work in shops/galleries. I also offer bespoke commissions. If someone has a piece of furniture they'd like to be transformed, I can work to a brief. Or, if someone is looking for something specific, I can source furniture and go from there. Another service that Happy Retro offers is wall art. I have painted murals for a couple of local businesses in Leith, including Muse Hairdressing and Bike Craft. I also have a much more sedate version in my living room!
What has been your favourite project to date?
I absolutely love transforming all of my furniture. I enjoy choosing colours and thinking about designs and patterns. I had a lot of fun painting the mural for Muse Hairdressing. My favourite piece of furniture so far has to be a set of drawers I have just finished. It's the first time I have done a 'landscape' scene on furniture and although it remains very abstract and geometric, it was a lot of fun trying out something new.
Finally, what's your favourite thing to do in Edinburgh with your kids?
My youngest has just started walking and just wants to wander and explore everywhere. We love Portobello and its great to walk along the prom (in all weather!) and visit the parks along the prom and look out at the great view across the Forth.
You can find Jen's work at The Scottish Design Exchange, or check out her website or Facebook page.