Yesterday we set off on a new adventure and got the Maid of the Forth ferry to Inchcolm Island. Having never done this before I wasn't quite sure what to expect – but it's now an activity I'm going to recommend to everyone I speak to for the foreseeable future.
On Sunday morning we headed for South Queensferry well informed that there was plenty of parking just next to the harbour. Placed right under two of the bridges and with the sun shining off the water, I really felt like it was the place to be!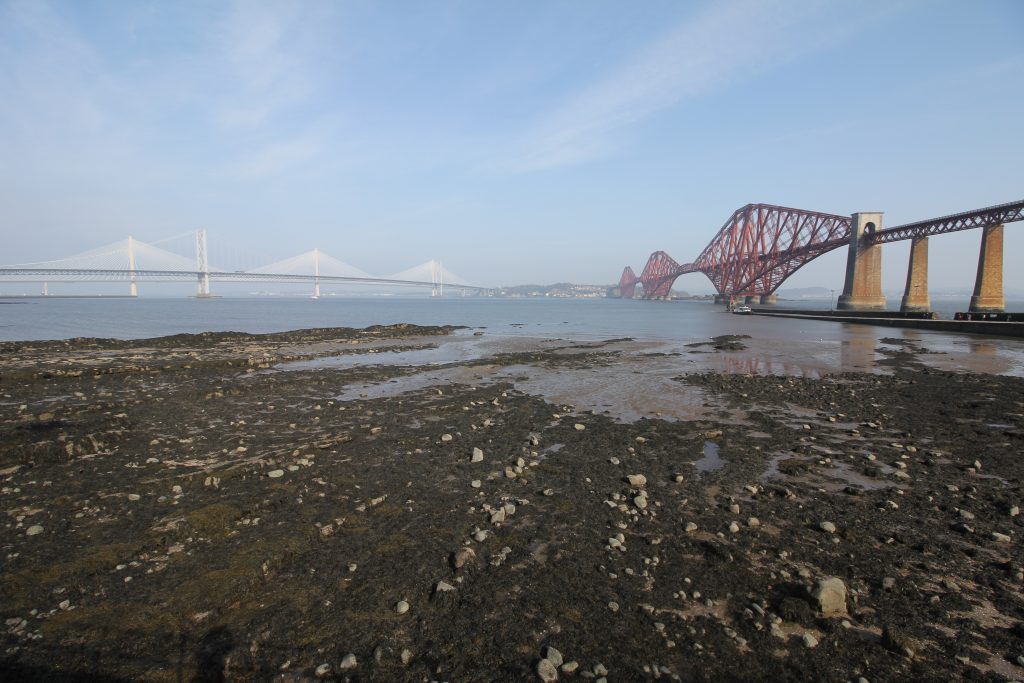 After collecting our tickets and with the ferry awaiting we made our way down the gangplank to one of the seating areas on the boat. Although it was sunny and really quite pleasant, with a boisterous toddler we thought it was wiser to stay below deck and actually – we really could still see the panoramic views of the Forth.
I ventured above a couple of times where admittedly it was a little bit more blowy but for some things – I just wanted a closer look. We passed a myriad of other vessels but I really enjoyed spying the seals basking in the sun and Katie kept a keen eye out for dolphins!
There was a voice-over on a tannoy system occasionally explaining what we were looking at or sharing things of historical interest, but beyond looking at specific things it was really just nice to soak in the whole vista.
Many other families had packed picnics to help entertain their kids, but having not been prepared enough – I was delighted that there was also a cafe on board. Mike and I soon had our energy levels topped up with a decent filter coffee, and the kids were soon happily munching on snacks. Another bonus with kids on board were the on board toilets – thoroughly necessary for anyone of toddler age!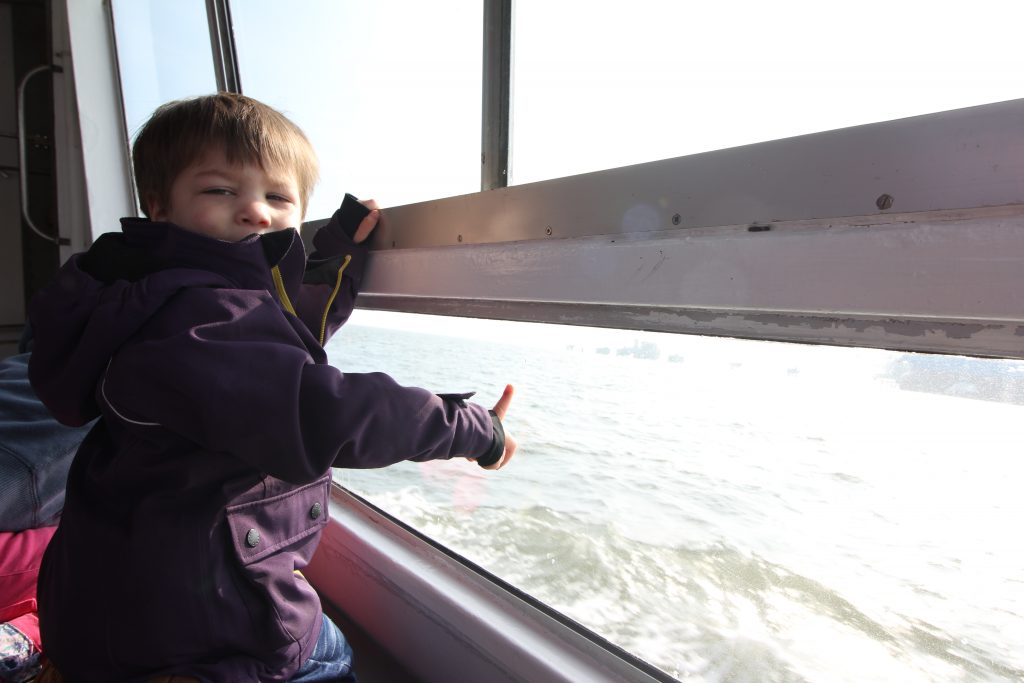 Once on Inchcolm Island Island we were given a specific time to return to the ferry but essentially had 90 minutes to explore the Island. In many ways this just wasn't enough and we were soon imagining what it would be like to just live there. With the waves lapping on the shore, the birds calling, and the sun shining down it really was tempting to find a bench and just soak in all the fresh air.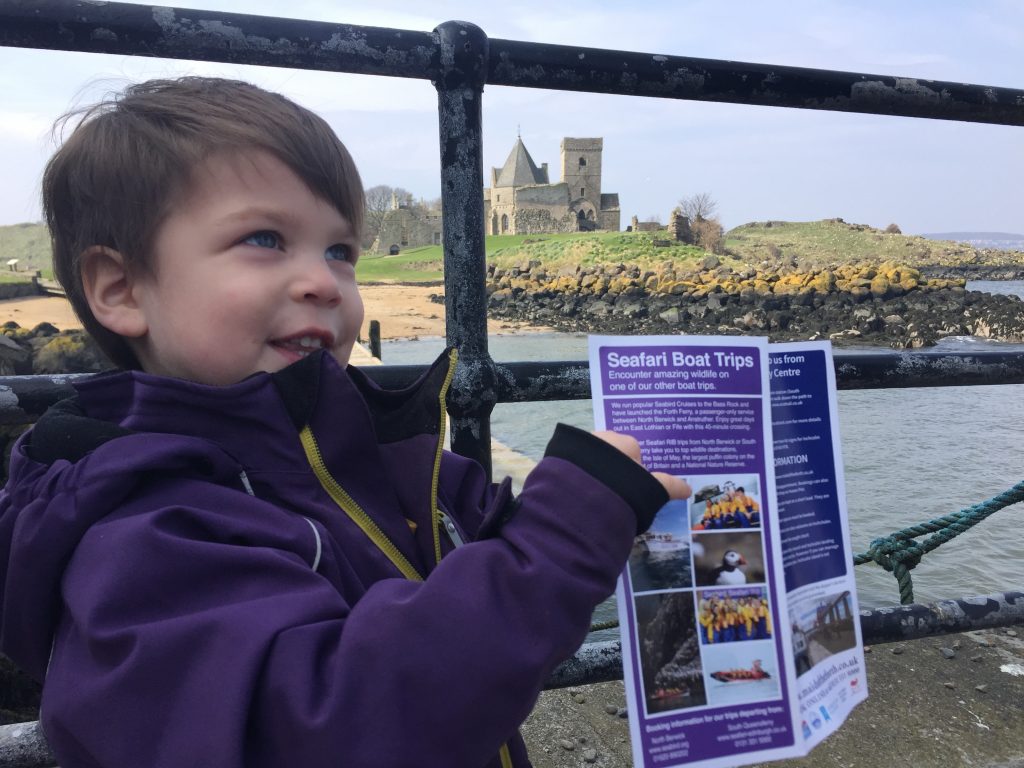 The kids instantly wanted to head to the sandy beaches before exploring the further reaches of the island – complete with various structures from the World Wars – but as keen Historic Scotland members, Mike and I really wanted to explore the Abby itself.
Originally a Benedictine Abbey, it really is unlike any other Abbey I've explored before. Rather than modifying their church, the canons there chose to build a new one so it's really a maze of buildings. The kids were really excited to explore all the rooms and winding staircases – although I would advise people to keep a tight grasp of toddlers as there are still a fair few large drops! On our next visit I plan to pack Thomas' we backpack with reins attached as he really did keep us on our toes.
Although the island was blustery there were so many places to shelter I could actually imagine being there on a wet day. Much of the Abbey is under cover and actually the scenery really would be quite dramatic.
We did head up to one of the peaks of the Island – being careful to avoid nesting gulls – just to really stretch the kids legs but there was so much more to explore than we had time for. It was great to see older teens being more adventurous in their explorations and enjoying playing in the waves on the jetty. It seemed like there really was something for everyone.
In terms of facilities on the Island, there was a small Historic Scotland Gift shop (cash only) and they also maintain toilets. Next to the shop there also was a small exhibition with a little more history of the island with some of the more ornate stones that had been excavated from the Abbey.
All too quickly our time was up and we headed back to the boat – following a slightly different route back to South Queensferry we passed round the south side of the Island and then under the bridges. It was great fun to pass under them and Thomas was of course delighted to see both buses and trains on our journey. There were a number of sailing boats out from Port Edgar and it just felt like a different world away from ours.
On our return home, it was clear that both kids benefited from the fresh air and unusually for them – they fell asleep within 3 minutes of driving! Mike and I both thought that it was somewhere we want to return too and I quickly set about planning our next trip when our extended family come to visit. I can imagine their evening Jazz cruises being so much fun too and really hope that journeys on The Maid of the Forth become a family tradition.
We were delighted to be invited to review our trip of the Maid of the Forth and were gifted a family ticket for this purpose, but of course, all words and thoughts are my own! You can check out the Sailing Schedule which has details of the different options with the times and prices. I really would heartily recommend it as a day out with a difference!
Please do share this post and pin it for later: