If you're looking for an egg-cellent activity for the Easter Holidays, then one egg-citing option is going to one of the many Cadbury Egg Hunts on offer at National Trust for Scotland properties across the country.
There are some superb events on over the Easter holidays in Edinburgh- everyone should be checking out the International Science Festival – an Egg Hunt seems to be a crucial aspect of Easter for me.
I've teamed up with the National Trust for Scotland and Cadbury to offer one lucky reader the chance to win a year's family membership worth £90 and a fantastic gift hamper packed with over a dozen delicious Cadbury chocolate treats. So you may just want to read on…
The best Easter Egg hunts…
The National Trust for Scotland wins hands down in providing Easter Egg Hunts all across Scotland. Taking place in 47 locations across Scotland, the Cadbury Egg Hunt is a great way to enjoy a fabulous family adventure and to discover more about Scotland's amazing heritage and landscapes.
Over the Easter weekend (14-17 April), the National Trust for Scotland is inviting families from all over Scotland to join them for the 10th annual Cadbury Egg Hunts. We attended the 7th-9th hunts in local properties around Edinburgh and certainly are looking forward to attending this year!
Each hunt is different but the basic premise the same. Children use their detective skills to follow clues through beautiful gardens, magical woodlands, story-filled castles and atmospheric landscapes.
Scotland has such a rich history and it's great to explore places that shaped our country. In my mind it's so important for kids to be part of that and have always found our local properties to be very welcoming to the kids.
All the kids completing the hunt receive a delicious Cadbury chocolate treat, but I'm pretty certain we failed to complete all the clues last year and Katie still managed to get a prize!
Scotland's weather may be unpredictable but we had a great time at the Newhailes Halloween Trail despite it being a bit damp. For those local to Edinburgh, I've visited most of the properties around the city plus a few further afield. I'd highly recommend Inveresk Lodge Garden, Preston Mill & Phantassie Doocot, the Royal Burgh of Culross, the Georgian House and the House of Binns. A little further out but definitely worth the journey is Falkland Palace. That said, I'm sure no event would disappoint!
Last weekend was so beautiful we decided to head to Inveresk Lodge Garden for a Mother's Day meander.
The gardens really feel like a series of outdoor rooms. From the conservatories to the sloping lawns, down to the wild meadows and ponds – each bit is different and the kids just loved to explore.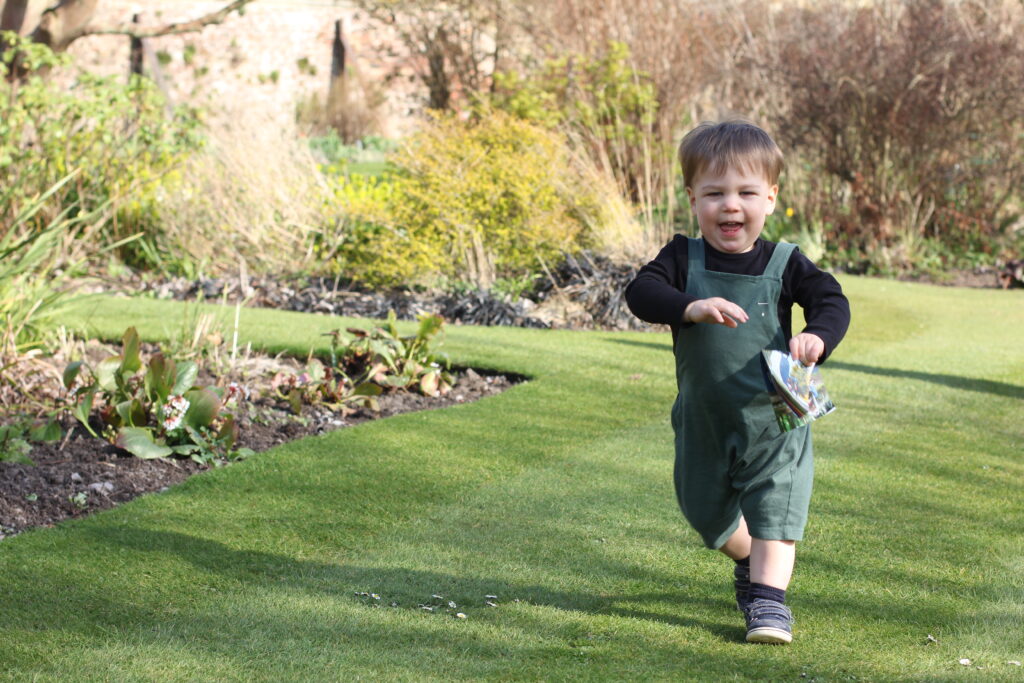 At going home time, Katie started to cry because she felt she hadn't done enough running. It was still warm and the early evening light was beautiful so we went back for a few laps round the trees! Whilst it is definitely not a place for young children to roam freely (there are steps and some big drops), it was a beautiful place to spend time as a family. It's really not far from home for us – and is a perfect location for a Cadbury Egg Hunt!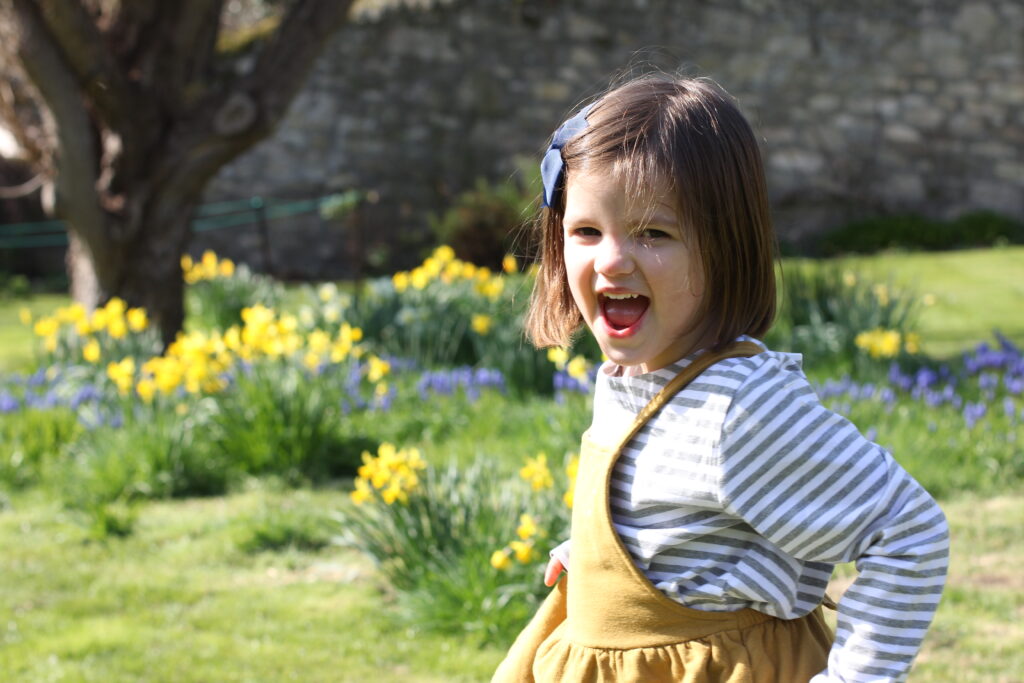 Finally to our giveaway – we absolutely adore having National Trust for Scotland membership and aside from visiting our local properties often use it on holidays throughout the UK. We visited 32 properties the first year we had membership and every single one was brilliant for families!
The year's family membership of the National Trust for Scotland is for two adults and up to 4 children, meaning you would receive unlimited free entry to over 100 of Scotland's iconic landscapes, wildlife and heritage sites. You would also receive a subscription to the National Trust for Scotland magazine plus a host of other benefits including the chance to explore with other National Trust organizations across the world (including the National Trust in England, Wales and Northern Ireland). The top prize winner also receives the fabulous Cadbury Gift Hamper (worth £80).
To find out more about the 2017 National Trust for Scotland Cadbury Egg Hunt, including locations, dates and admission costs, visit www.nts.org.uk.
PS. hamper picture representative only!