A weekend away in York with the kids has been on the cards for a while. I know a lot of friends escape from Edinburgh quite often – so although I had booked to run the Yorkshire 10 mile – I thought I'd take Katie with me too!
We caught the train from Edinburgh to arrive in York around midday. On arrival, I have to confess I was quite shocked by the large number of groups drinking and dressed up for a night out. I had pictured traipsing round York taking pictures of pretty buildings – weaving round groups handing round cans of beers didn't really feature!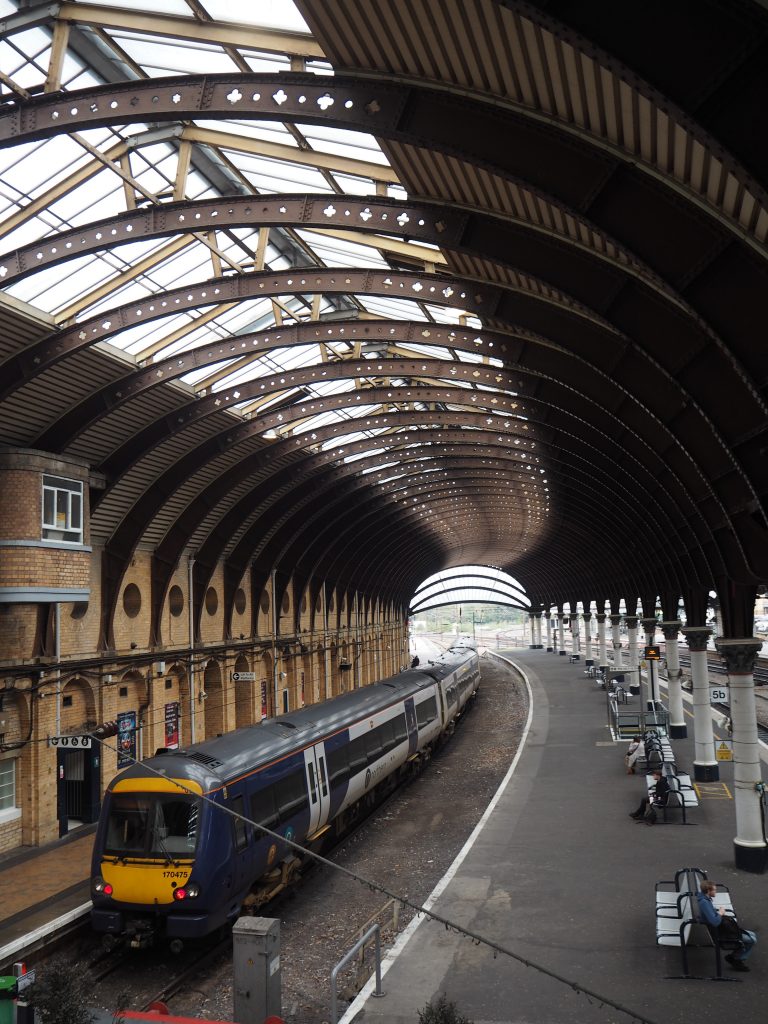 York Museum Gardens
Thankfully, we met up with friends who knew York well and headed to the gardens around York Museum Gardens. I'm not sure drinking is even allowed there but we found ourselves in an absolute haven of green – which provided a much needed contrast with the railway station!
The kids had loads of space to run around and play safely – whilst the adults could enjoy a coffee. There were loads of different paths to explore, and the medieval ruins of St. Mary's Abbey were stunning in contrast to the gardens.
As rain began to fall, we made our way to our friend's house in nearby Harrogate – and then to our hotel. I booked a room at the Crowne Plaza thinking that I would need a night of absolute comfort before the Yorkshire 10 mile the next morning!
Crowne Plaza Harrogate
We received a lovely welcome at the hotel and I could see that Katie was taken aback on arrival as the lobby was quite striking. Our room was spotless and it was really nice to have a hot shower after all our exploring.
My only regret was choosing to eat in the bar rather than venturing out into Harrogate. As it was still raining, staying at the hotel definitely was the sensible option but it felt over priced for the food on offer. As a Club member I did have access to the lounge with complimentary drinks/canopies but it didn't feel sensible to explore with Katie – or before a run! It was at that point I thought it would be rather nice to be there with Mike – minus kids.
However, the plus points definitely outweighed any regret over food choice. The bed in our room was huge and the complimentary Kitkats and bottles of water really made Katie's day. We had a lovely evening watching nonsense TV before settling down for a really good night's sleep.
Yorkshire 10 Mile and Marathon
Up at 6am, the hotel staff were on hand to order a taxi and to ensure we had been happy with our stay. I was sad to miss breakfast as I had heard good things, and it seemed very foolish to be leaving our lovely room to go run in the cold!
With Katie left safely with my friends, the running crew headed back to York to catch the bus from the station out to the event village. My friend Jimmy had an earlier start as a marathon runner, so his sister and I mostly spent time finding anywhere warm to shelter as it really was a cold start!
The run was underway soon enough and I have to confess to enjoying most of it. I set off at a very comfortable pace and really enjoyed the route. It was lovely to see Katie and the rest of our friends just before the Minster, and the route was really quite scenic throughout.
It was at the 9 mile point that things really began to hurt. The bottom of my right foot became very painful and I had to adopt a weird stride to keep going. I slowed down a lot and fell a couple of minutes behind the pace I had maintained to that point. The finish line – and hearing Katie's cheers – were a very welcome sight!
Thankfully I also finished quickly enough to see Jimmy finishing his marathon in under 3 hours! He really did make it look effortless at the end – maintaining positivity despite finding the route pretty brutal. His Instagram is full of running tips and general inspiration – although be warned you'll be inspired to run more!
Exploring York City Centre
That afternoon I had planned to explore the Minster and the Shambles. But of course, Katie was exhausted from lots of walking that morning, my legs were wobbly and it was tipping it down with rain!
In the end, we opted for sheltering in Starbucks (Betty's had a queue out the door) before braving the elements to explore a few of the streets. Thankfully, my expectations of historic, pretty buildings was confirmed – despite the rain – and we loved the Harry Potter vibe of so many of the shops.
I'd definitely like to return again – with Mike more than the kids – and would love to venture out into the Shambles before anything opens in the hope of finding them people free. I'm also sorry I didn't get to go into the Minster as it looked spectacular from the outside.
But overall, despite the soreness of my legs today – I'm really glad that I ignored my nerves and just went for it! I hope you'll excuse the slight gap in my Blogtober aims – but I was pretty busy running!