The weather has turned, the nights are drawing in and indoor activities are beginning to come into their own. Laura has written a fab post with some indoor autumnal suggestions but when you just need to get out of the house, ice skating is a fantastic active option in poor weather.
I recently took my four year old daughter out on the ice for the first time and these are my top tips to ensure you and your family have a great skate:
Layer up – it's cold outside right now and at the rink it's cold inside too. For very little ones I would recommend a thin thermal base layer to keep them cosy. My daughter has one from Aldi and it works a treat. On top of that, any ordinary outfit will do; preferably with a couple of layers rather than one thick jumper so they can strip down if they really skate hard. Gloves are virtually essential and a hat is worth taking too. You don't want your session cut short due to a shivery child! Jeans are fine as the ice is rarely wet.
Choose the right session – complete beginners are welcome at any public skating session but Murrayfield offers two special weekend options to suit those just starting out. On a Saturday at 10am-12pm there is a Family Skate Session, which we went to. This session is relatively quiet and attracts skaters intent on improving their skills rather than racing around the rink at speed. Under 5s only cost £3 entry, including skate hire, with an adult paying full price. If Sundays suit better or you like the idea of more structured tuition – perhaps you're not confident that you can keep yourself upright, never mind support your child – then the drop-in Learn to Skate at 12-1.45pm on Sunday is for you. This involves a 45min group lesson followed by free skating to practice what you've learned and is open to children aged 5 and up. Under 8s should be accompanied on the ice by an adult.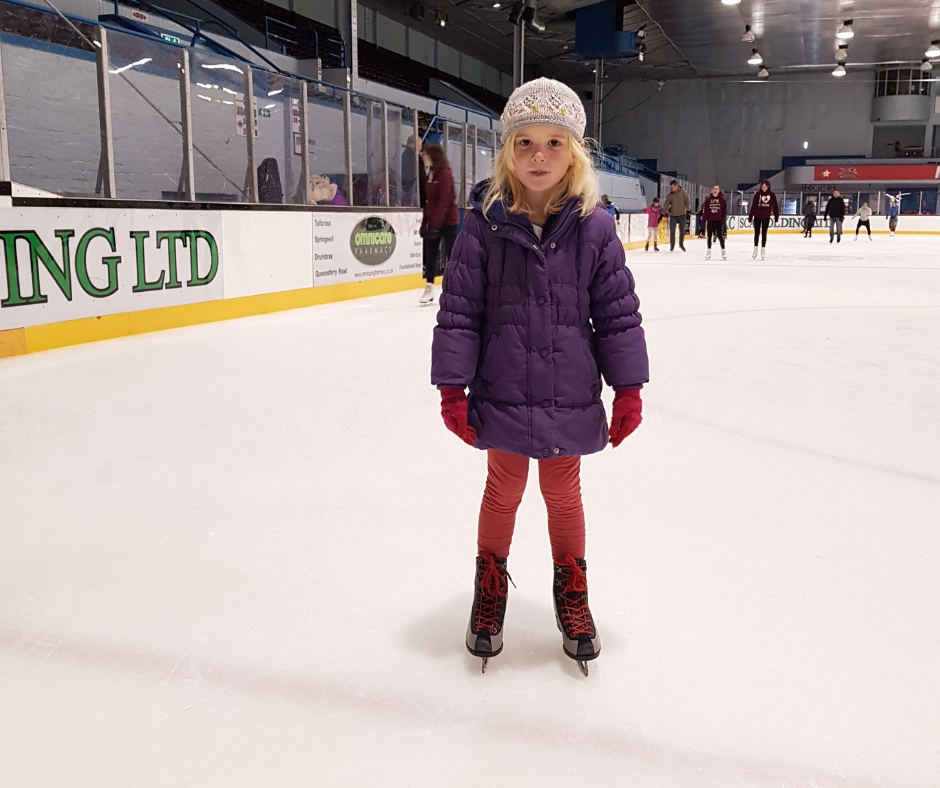 Get the right size skates – at skate hire you'll be asked to hand your shoes over in exchange for a pair of bulky boots with blades on them. They won't be super sharp but little people should still take care! Ask for your normal shoe size (skates start at a teeny-weeny infant size 5 at Murrayfield) and try those first.  If they don't feel right you can swap them but there's generally no need to size up or down. No half sizes are available unfortunately. Tie the laces securely i.e quite tight! Aim for a single finger's space behind the tongue as the laces will loosen off as you skate and they need to be secure enough to help support the ankle. Thicker socks might make the hire skates more comfortable but are not strictly necessary if you get the right boot size. Skate hire is at the far end of the rink; if you want a locker key to store bags you should ask at the desk on the way in to save you walking the full length of the rink and back. Many people, however, keep their bags at the rink-side while they skate.
Ready, steady skate – there are rink stewards on the ice at every session for your safety and support. My experience at Murrayfield is that they are invariably friendly and helpful people. They were great with my daughter, giving her pointers and offering assistance without being pushy. So, how do you actually get going? After the trickiest bit – stepping on to the ice slowly and carefully – the advice was to "walk like a penguin": toes turned slightly out and take little baby steps. Those steps will gradually turn into a glide as confidence grows. The other tip was to hold onto the barrier with one hand and have the other arm out "like an aeroplane". Penguin feet. Aeroplane arm. Got it. Oh, and try to look up. There's a tendency to look at your feet to make sure they're still walking like a penguin but that will shift your weight forward and set you off-balance. 
Explore everything the rink has to offer – get inspired by watching, or participating in, a figure skating or ice hockey session. We are so lucky in Edinburgh to have a facility with something to offer skaters, players and spectators of all ages. There are multiple hockey teams based out of Murrayfield from junior hockey teams, recreational hockey teams, my hockey team – the Caledonia Steel Queens (come join us, no experience necessary!) – right up to the Racers, Edinburgh's new SNL team who are the top tier team at the rink at the moment following the demise of the Elite league team. Entry charges vary but there are games on every weekend at some level which can be a fun family outing if you don't mind too much about a fight breaking out.
Time to get your skates on – your family might not produce the next Torvill, Dean or Liam Kirk but hopefully ice skating is something you will all enjoy. Start practising at Murrayfield now and you'll be all set to showcase your skills when the rink opens in St Andrew square for the Christmas market!
Check out Murrayfield's session times and prices here: http://www.murrayfieldicerinkltd.co.uk/timesandprices.html
For kids who don't fancy the cold, the Boardwalk roller rink at Ocean Terminal is worth checking out: http://www.boardwalkleith.com/ and Edinburgh's junior roller hockey club also offers learn to skate sessions on wheels instead of blades: http://www.edinburghmonkeys.co.uk.
For more info about the Caledonia Steel Queens, check out our Facebook page: https://www.facebook.com/CaleySteelQueens/ 
P.S. None of these are sponsored or affiliate links – just great places to go!