It's fair to say that 2020 has been one of the oddest years in modern day times – if not ever! Who would have thought we would all be gathered around the television, watching a Scottish Government broadcast, to find out what 'tier' we lived in. Yet, sadly it is the way the world is right now.
On a positive note however, having to live with these tiered boundaries in place, means that we are challenged with finding ways to entertain ourselves at a more local level. Thanks to a recent news stories on the STV channel, we discovered a brand new tourist attraction right on our very doorstep…
The Colinton Dell
Colinton, which literally means 'village in the woods' in Gaelic, has such a special small village feel to it. Back in the day, it was a thriving place as it was full of a variety of different mills due to its position next to the Water of Leith.
The Dell itself is situated in a beautiful woodland gorge, with many impressive weirs to see in the Water of Leith, which is visible from this section of the route. The Colinton Dell part of the river used to power mills that produced Scott's Porridge oats – a little fun fact for you! The full walk (which we didn't complete due to coffee reservations!) is from Slateford, in the city centre, and sits alongside the Union Canal, all the way to Balerno. It follows the old Balerno railway line, a key transport link in the olden days for mill-workers and supplies.
The Colinton Tunnel Mural
Named as one of the top tourist attractions in Edinburgh of the year, the Colinton Tunnel Mural sees over 3000 visitors every weekend day. And to be honest, having now visited it myself, I can totally see why.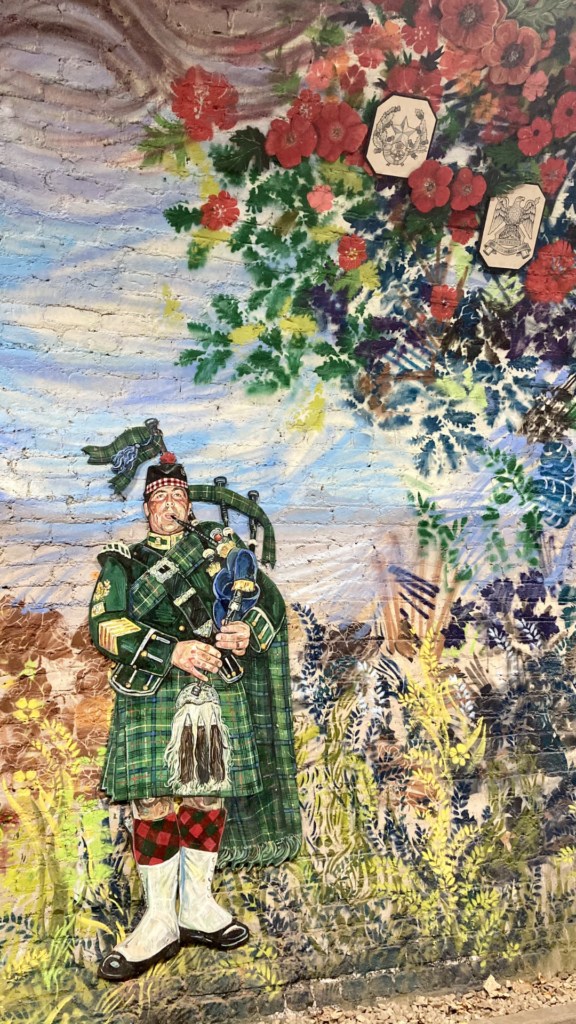 What started as a community art project to attract more visitors following the closure of a bank, became a celebration of the village's history and culture. The mural depicts the poem, 'From a Railway Carriage,' written by Robert Louis Stevenson. Stevenson's grandfather was the priest in the local church of the village, and it was documented that he spent a lot of his time around this particular area, as well as there being a few nods to Colinton itself in the poem.
Accompanying the actual words of the poem illustrated on the side of the tunnel are the most beautifully vibrant paintings, illustrated by the very talented artist Chris Rutterford. Each section is so detailed and jam-packed with thoughtfulness and attention. I even made some notes while we were there to make a scavenger hunt for Wren to complete on our next visit to the tunnel, as there are so many little gems to find in every turn.
To be frank, words in a blog post will never do the mural justice. It truly is a spectacle, and is a must visit for any fan of Edinburgh.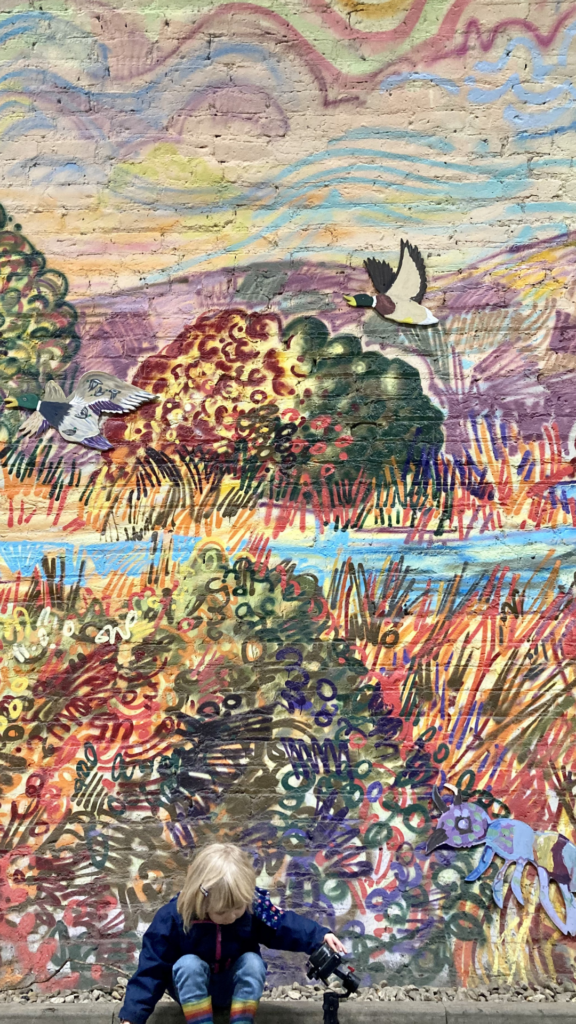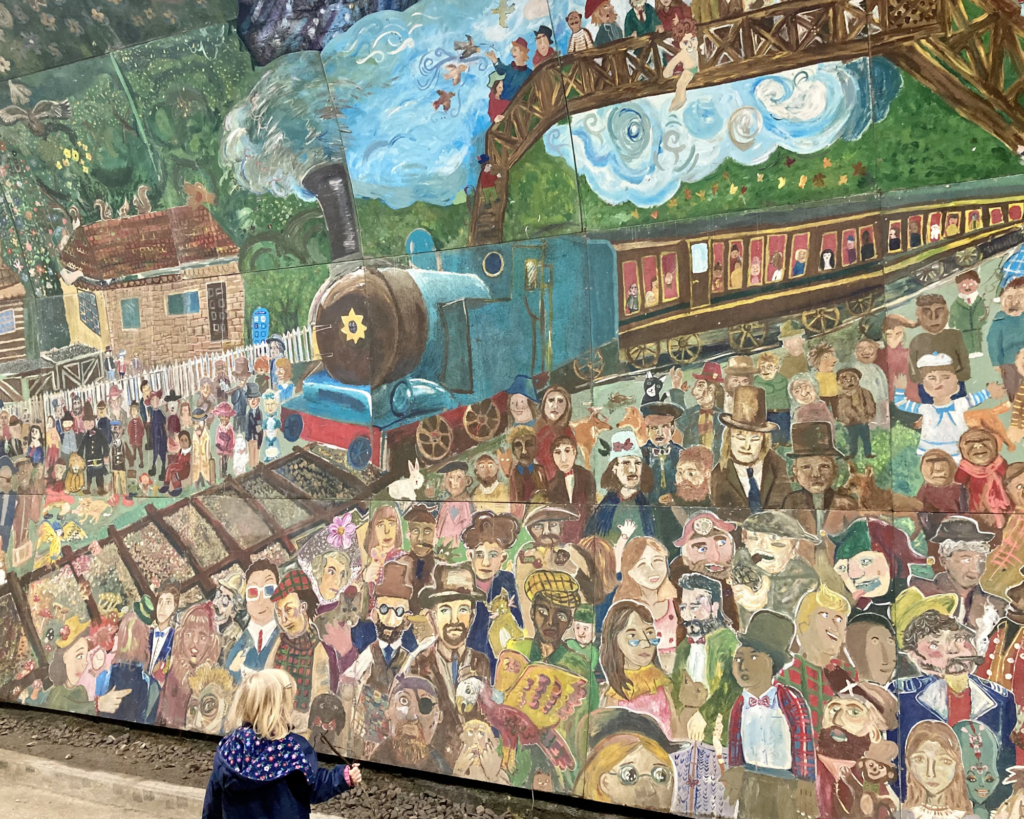 The Spylaw Park
If you continue to walk under the bridge after the tunnel mural, you'll find yourself in Spylaw Park. It's a brilliant outdoor space, with a particularly good play park for little ones, equipped with a group swing, cone climber, tyre swing, and a wobbly bridge.
The Park is also home to a rather grand looking building, which is now a set of private flats. It was built by James Gillespie, a tobacco merchant, who is a pretty big name in Edinburgh as he donated all of his fortunes after his death to a local hospital and school. He is now buried in in Colinton Church Yard.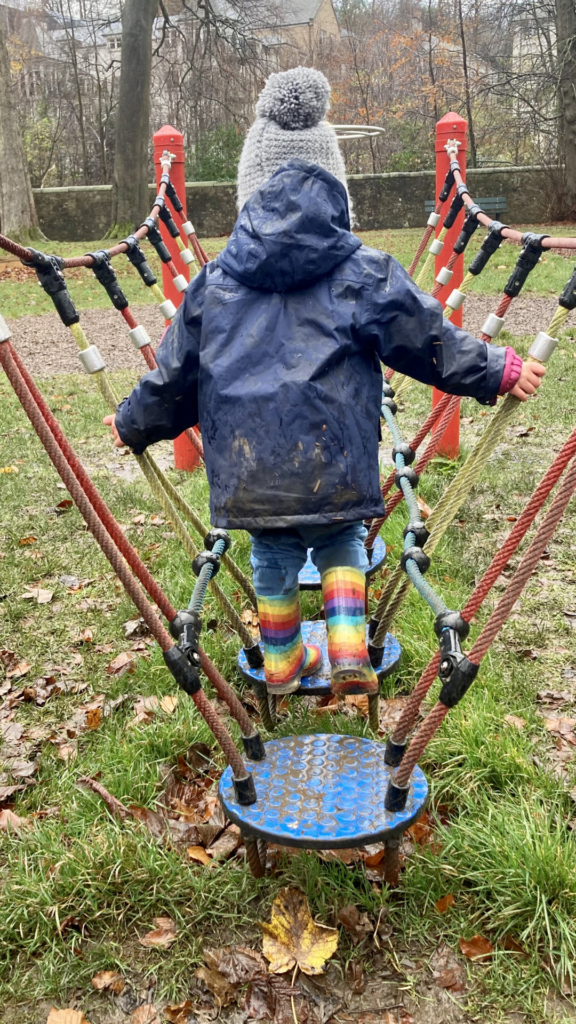 The Spylaw Bar
If you cross the little bridge next to the mansion house, and make your way up the steep hill, you'll find yourself on a little quaint lane lined with postcard-perfect cottages. This is where you'll find The Spylaw Bar.
We were there during their hour of 'morning nibbles'- a simple menu of bacon rolls, scones and cakes, as well as the essential coffee list, and it was great. The modern and homely decor, with its dark greens and gold accents, makes it such a warm place to relax and chat. Admittedly, I enjoyed it so much that we actually went again for lunch the next day! I can confirm that the burger is DELICIOUS!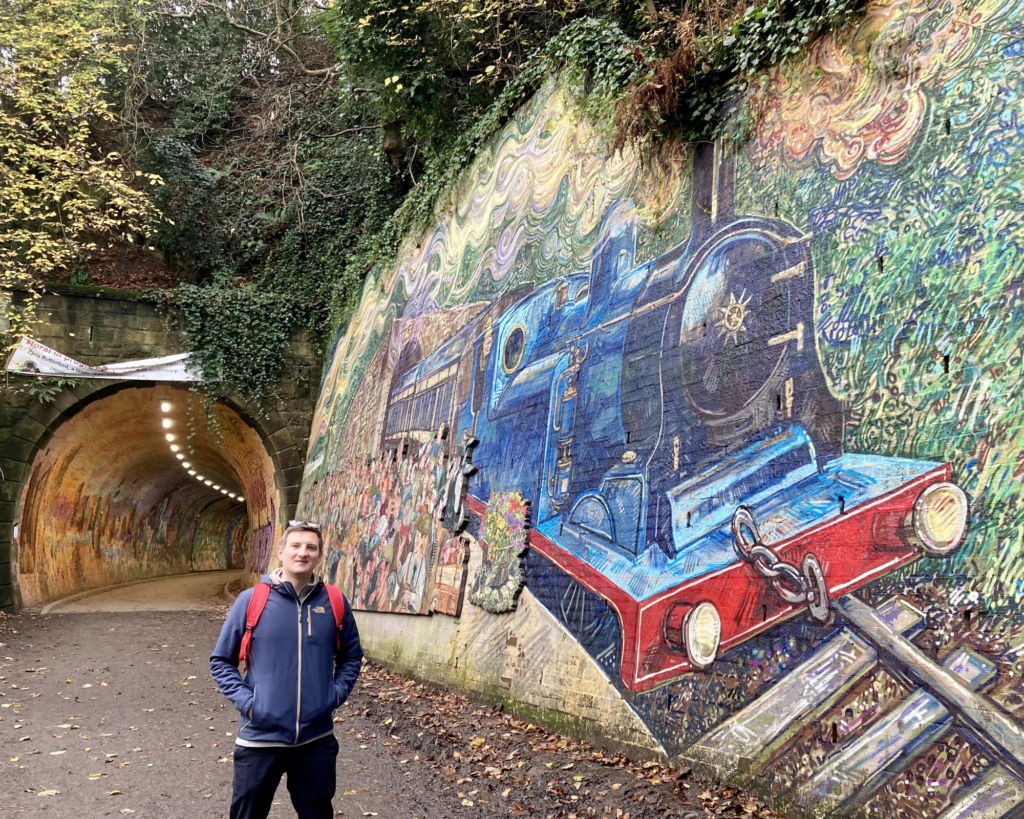 The Colinton Tunnel Mural is still to be finished (due to Covid) and any donations can be made via www.colintontunnel.org.uk.
Your support on our Youtube channel is greatly appreciated so please hit subscribe! Also follow Emily on her Instagram @wrenyc for lots of play at home ideas with toddlers and more of her daily life in Edinburgh.