Last weekend we headed down to Holyrood Park to take part in the Subway® Helping Hearts™ Family 5K and try out some NFL Flag Football, a programme which is also presented by Subway® ! As American Football is the fastest growing Sport in the UK, it was great to see flag football getting some recognition in Scotland and hopefully, it will be in more of our schools soon! 
We got the chance to hang out with NFL footballer Christian Scotland-Williamson to learn more about the game and his journey to NFL from rugby. And after finishing the 5K race (complete with an inflatable obstacle course section) we enjoyed some amazing Subway lunches. I'm really excited to share more about it with you all…
Subway® has partnered with Heart Research UK for over 10 years now and this year is bringing a series of Subway® Helping Hearts™ Family 5K races around the country. I've only ever run 2K with Katie before – as she's only 5 – but she was really excited at the thought of getting a medal so we thought we'd try. The route was definitely a tough one – starting with a 3K steady climb up towards Arthur's seat – but the views were incredible. Of course, as a Family race loads of people were walking so we just did our best walking and jogging some sections!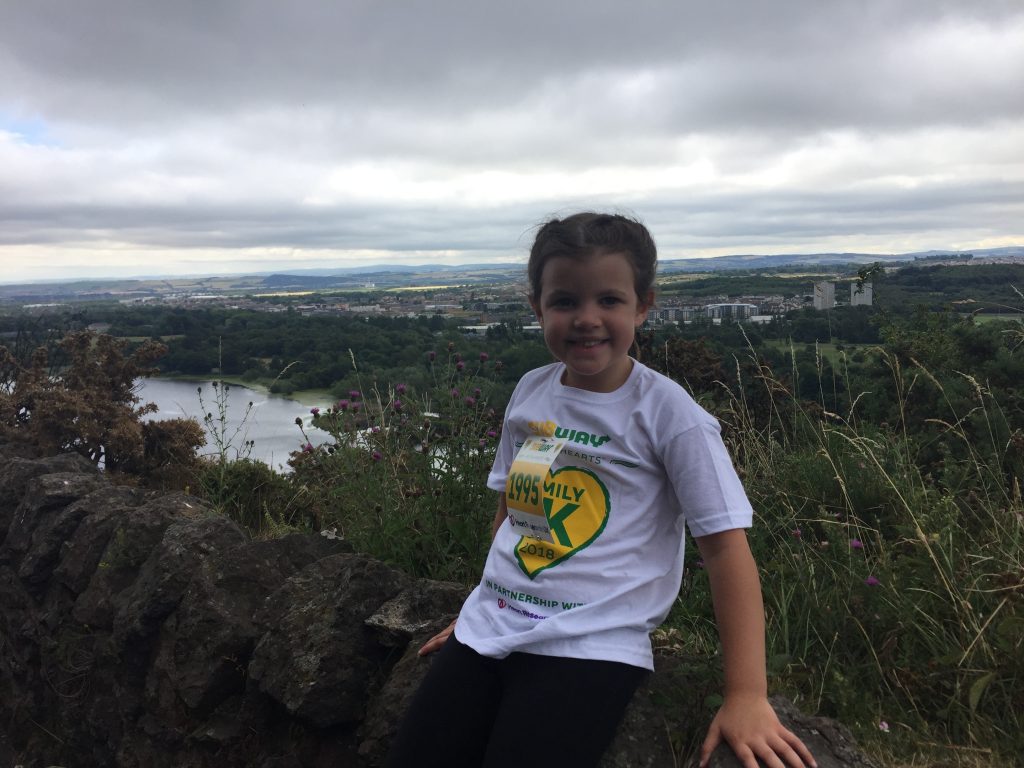 We exercise as a family in the hope that by keeping fit we'll have the ability to enjoy our lives to the max. I love running with Katie as I believe that by forming the habit of enjoying exercise at a young age, it'll become something she will keep for life. So the combination of running with her and supporting a charity that helps other's hearts really was special. Heart Research UK is an amazing charity that seeks to fund ground breaking, medical research projects into the prevention, treatment and cure of heart disease.
To sign up to future events you can find all the details here – and hopefully do your part in helping the work of Heart Research UK.
Before the race started we had time to hang out in the event village – dancing to the tunes – but also learning more about NFL flag – the non-contact version of American football. I grew up with American football in my life as my brother has always been nuts about it. I attended my first Broncos game when I was around 8 years-old and watched by brother play throughout his teens and well into his twenties. I am however aware that the opportunity he had to play wasn't available to everyone.
It was fantastic to learn that the NFL Flag programme is being presented by Subway® in eight different UK cities and there are plans to roll out the programme to more UK locations, including Scotland, as well as Ireland very soon! Through their NFL Flag programme they are introducing the fundamentals of American Football whilst instilling NFL values and teaching the importance of keeping active and following a healthy diet – all through a 6-12 week curriculum.
The teams taking part in the program all played in regional tournaments which recently culminated in a 'Summer Bowl' with the regional finalists competing. Obviously, the ultimate dream is to get teachers trained to deliver the curriculum for themselves and for Subway® to bring NFL Flag to the whole of the UK and Ireland. Over 10,000 kids have already taken part in the programme but if you'd like your school to get involved – send them this link and ask them to register!
Before we set off on our 5K race, we got the opportunity to chat to Christian Scotland-Williamson. Aside from being impressively tall, he's known for walking away from a professional rugby contract in England in order to pursue a career in the NFL. He explained that he doesn't want to live with any regrets or to look back and regret not doing something – so just decided to really seize the day and go for it! He said that growing up he didn't really get the opportunity to play American Football, but he always followed the Pittsburgh Steelers so it feels totally surreal to be playing for his team!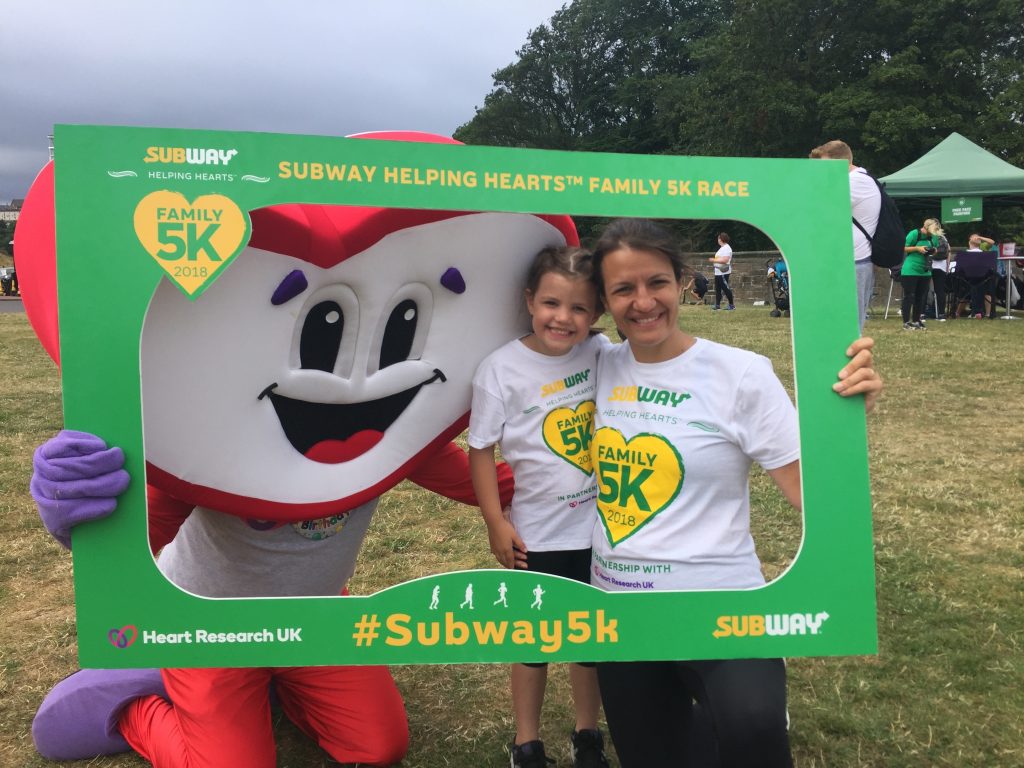 Obviously, he is a totally inspirational sportsman who has really followed his dreams but it was so lovely that he was totally down to earth. I did find it hilarious that he wasn't up for running the 5K with us and kind of disappointed that he wasn't up for carrying Katie round the course – so we really just had to go for it ourselves!!
The 5K was epic in terms of the views at the top but the last 50m had to be the best. After a rapid run down the hill, Katie and I loved hurtling over the inflatable obstacle course to the finish. I was more than ready for my lunch and was delighted to collect our Subway® lunches! We had a really active morning so really needed our sandwiches to fuel us for the rest of the day. I find that Subway® is a great place to stop for a pick me up with the kids as they always have great offers on and Kids' Paks are just perfect for my gang. I'm really looking forward to checking out the NFL themed ones coming in September!
Katie ended our time in the event village by getting her face painted (for free!) to celebrate her 5K achievement and, of course, we had to scoop Thomas up off the inflatables where he had been rocking out whilst we had been running. It was hard to grab the kids away after Katie had invaded the stage and Thomas had spied all the Subway® lunch boxes still to be handed out – but overall, we really had a brilliant morning and really hope that you can find a Subway® Helping Hearts™ Family 5K race near you!
---
PS. This post was sponsored by Subway® UK but all thoughts/opinions are of course my own! Thanks to them for their support of Edinburgh Life with Kids.