The honest truth? I'm worried about looking 'old'. Although I can hear all those mantras about 'growing old with grace' – I'm just not ready too. I don't feel like I'm old. My age ISN'T old. But there's no denying those 'fine lines' are beginning to appear.
17 years ago, my English teacher said something that for some reason stuck in my head. It would've been useful if it had been something to help with my subsequent exams, but rather it was about ageing. She said that in her mind, she looks a certain age, maybe the way she was in her twenties. But now, every time she looked in the mirror she got a shock that she didn't look the way she was meant to.
This random story stayed with me over the years and as I looked in the mirror, I often wondered if I would have the same experience. In a way, I've often breathed with relief that I still saw 'me' and not some stranger looking back.
Until now.
In the run up to Christmas, I thought I'd take a stroll down one of my favourite (and incredibly instagramable) streets in Edinburgh. But upon taking a selfie – I had a bit of a shock! When did I develop those eye creases? And what are those lines doing there on my forehead?!
I may have looked this this way for a while… but somehow I've just not noticed my face changing. It's not that I'm not myself, but I certainly have changed and I'm not sure that I like it! Don't get me wrong… I don't look 90 but equally I'm not in my teens either!
Botox time?
Funnily enough, the idea of botox and lip fillers did occur. Maybe one of those weird face peal things? But then the idea of not being able to smile or move my face also isn't that appealing.
Instead, remembering my friend's advice to always always moisturise – I decided to look through all the random lotions and potions I've somehow acquired over the years. And to research anti-aging skin remedies on the theory that they cost so much money… they've got to be magic!
It might not be too late to at least slow the process or even reverse it a little?!
The skincare plan
I figured the first thing I needed to do was 'try out' one product range for a month to see if I noticed any difference. First on the cards, Dermalogica.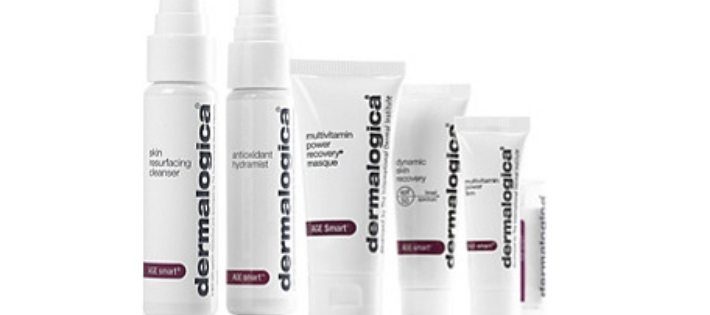 After bit of googling I settled on the following routine for a month:
Step 1 – CLEANSE – using Dermalogica Age Smart Skin Resurfacing Cleanser – washed off a linen cloth or just rinsed off in shower.
Step 2 – TONE – using Dermalogican Age Smart Antioxidant Hyrdamist – just spray on face.
Step 3 – EXFOLIATE – using Dermalogica Age Smart Daily Superfoliant in the mornings. It's this weird grey stuff that you add water too and I couldn't be bothered if I wasn't in the shower.
Step 4 – MOISTURISE – using Dermalogica Age Smart Skin Recovery SPF50.
Step 5 –  EYES – to try and tackle dark circles and eye creases I've got Khiel's Creamy Eye Treatment with Avocado. Then for night – Khiel's Midnight Recovery Eye – which promises younger-looking eyes by morning. Both of which smell nice so half the job even if they don't work.
Step 6 – EXTRAS – once a week I'm also using Dermalogica Multivitamin power recovery masque. Putting it on before a bath and rinsing after 10 minutes or so.
How did stage one of the experiment go?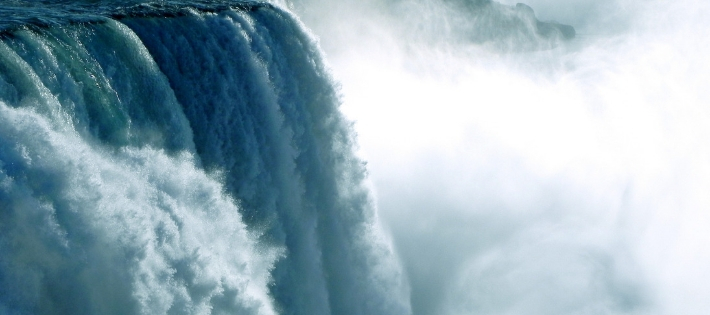 Ok… so maybe it's not be waterfalls or transformational awakening. But focusing on the positives first: lots of people have commented that my skin is looking good. I think I've had less blemishes and the products did make my skin feel 'tighter' and more pulled together somehow. My face definitely feels softer and smoother to touch which I see as a good thing.
But I really did not like some of the products and I'm very glad I opted for 'travel' sized versions rather than jumping in the deep end. The cleanser and the toner were both lovely and smelled perfectly acceptable. But the exfoliator just smells like acid. The moisturiser was offensive in two ways – in that it smelt bad AND made my face burn. The masque was perfectly ok in terms of it's use but it definitely smelled like some kind of paint.
Overall, I have been enjoying making the time to wash and treat my face properly. I've even subsequently bought a moisturiser for my body as well (making sure I found one with a nice smell!) The real positives I've found have nothing to do with ageing but rather, I've found that I just feel better. I feel fresher and even a bit calmer having taken that time to prioritise some self-care.
Alternative reasons to adopt a skincare routine
As I was embarking on my experiment, I thought I'd ask around and find out what routines other people had. And what their motivation was for keeping going:
I follow a skin care regime because I'm very prone to spotty skin otherwise. I can even notice a difference if I don't do it twice a day every day…. I also find I need to change the products every few months or my skin seems to get too used to them. – Kirsty

I drink loads of water and never ever go to sleep with my make up on. I use a facial serum underneath a lanolin free day moisturiser and a heavier richer night cream. Skin is great but the wrinkles are creeping in now ~ that's more to do with having kids! Lol. – Charlie

I started suffering from severe eczema when I was about 26 and I've followed a strict skincare routine since then to keep it under control. I always take my makeup off before bed, and I use Liz Earle's Cleanse and Polish which I can't rave about enough for eczema sufferers. I find if your skin looks good, it's a huge factor in how you feel about yourself. – Katy

Absolutely! I always cleanse and tone before bed and in the morning. If I'm lazy and don't do it in the evening I really notice how much worse my skin is the next day. I have quite oily and spot prone skin and it's way worse if I skip cleaning my face for a few nights. Now I'm in my 30s I've started using natural oils at night time and moisturiser in the morning and it really helps with the appearance and texture of my skin. It makes it look fresher, younger and less tired/dry.- Victoria

I follow an easy skin care routine because it makes me feel wonderful and it one of the ways on how to show myself some love. I am also a creature of habit so it feeds my OCD a little, following the routine everyday. I wash my face in the morning and at night, applying moisturizer at night and sun screen in the day. I exfoliate twice a week and do face masks twice a week. – Veronica

My grandmother always swore by a hot water face flannel over the face for a few minutes every morning to open up the pores, so that's what I do! In the evening I remove makeup and use a moisturizer as my skin dries out. Any moisturizer will usually do me – but at the moment I'm using Olay's Night Moisturizer as I received it as a gift. – Christy 
The magic solution?
In all honesty, I should've really started using moisturiser religiously years ago. My Mum often bought me lovely skincare sets that I would use for a few weeks and then very occasionally after that. But funnily enough, good skin is a lot more than just skin deep.
I know I need to get more sleep. I absolutely should drink more water. And getting a sun tan every year will naturally take it's toll. I have freckles and moles that I didn't have ten years ago – which are all signs of sun damage rather than a lack of toner.
Will I continue? Yes.
I like the way my skin feels when it's moisturised instead of feeling dry and rough. But also, it's nice to make sure I wind down in the evenings instead of scrolling mindlessly through social media. Realistically, by 11pm I'm not engaging with anything so it's nice to reclaim a bit of that time and finding more of a balance!
So the next step? A very kind friend recently gifted me a selection of 'murad' products so now I've used up the Dermalogica – I'm trying these for a month!