This evening we stepped beyond the ordinary and into the grounds of Hopetoun House for their new winter lights trail. New the Edinburgh calendar this year, they've transformed the grounds with a 2km lights trail – complete with sound, bubbles, smoke, gnomes… the list goes on!
We were invited to the press preview evening, so hopefully I'll be able to run you through everything you need to know before you go!
Getting there
We were told in advance not to try and enter the Estate by the normal tourist/brown sign route. But rather to follow signage from the A904… Mike wasn't sure where this was so ended up driving to the wrong place! Thankfully we had left in plenty of time so with a bit of iPhone map reading we soon were back on track!
Once in the grounds there were plenty of signs to follow but it did feel a bit odd driving down darkened lanes but certainly helped build the excitement! We were directed to parking just in front of the house itself so it was a very short walk (max 100m) to the start of the trail (and ticket check!)
What to wear
The first part of the trail is on a walkway that's been laid out in the woods. However, parts can still get slippy and it's easy to trip (especially when distracted by awesome lights!). The second half is on the forest floor (think mud, leaves, with wood chips there to mitigate the mud!). So, I was happy that we had opted to dress the kids in wellies, rain trousers, and warm coats. I was fine in a pair of Chelsea boots – but old ones I don't mind getting a bit of mud on!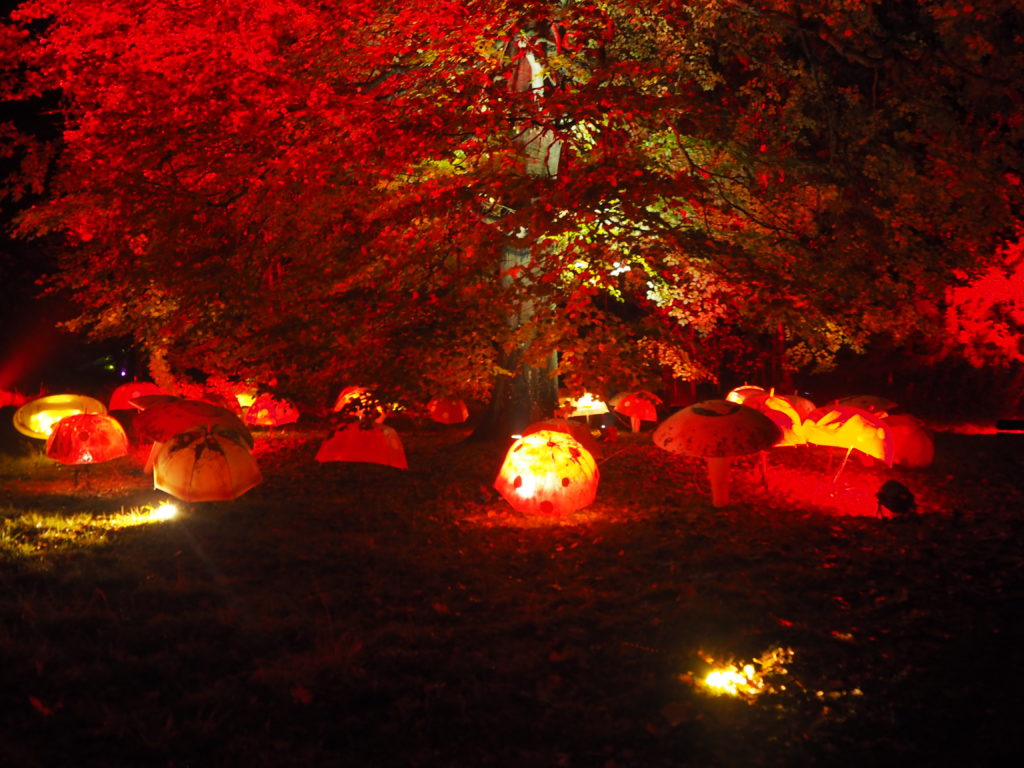 The Trail
The trail through the woods takes you through a number of displays loosely built around the idea of 'Woody the Owl' and his friends. Focusing on the mystical woodland theme. Some made sense – fairies, gnomes, talking trees… but I was utterly bemused to be walking through a triangular alley of light and smoke – definitely more a bit more Space Odyssey!
In one section whispering voices could be heard coming from the darkness. A passing photographer commented that he 'hoped my children would still be able to sleep!' But on the contrary, my two were absolutely delighted – Thomas even said they sounded like they would be fun to play with! [Not at all creepy!!]
My undeniable highlight was seeing the House itself lit up with the lights along with music working in time with the fountain. Fireworks can move over… this was just as spectacular. Katie declared them 'rainbow lights' as the light was beamed through the water in the darkness.
I imagine that Hopetoun House (along with a great many other events venues) have found this year particularly hard. But this particular display seemed like a good response – there is light in the darkness and ultimately, it will shine through.
Food and facilities
There were two food standards towards the end of the trail. The first had an array of doughnuts, marshmallows, cotton candy, and an assortment of hot/cold drinks. The second offered hot food such as burgers and hotdogs. We had already eaten before hand so skipped this – although the smell of sugar was awfully tempting!
There were portaloos at the start of the trail, close to the food stands, and again towards the end. As we were asked to move in one direction round the trail I was glad the kids used the first ones we came to as I wouldn't have wanted to rush through!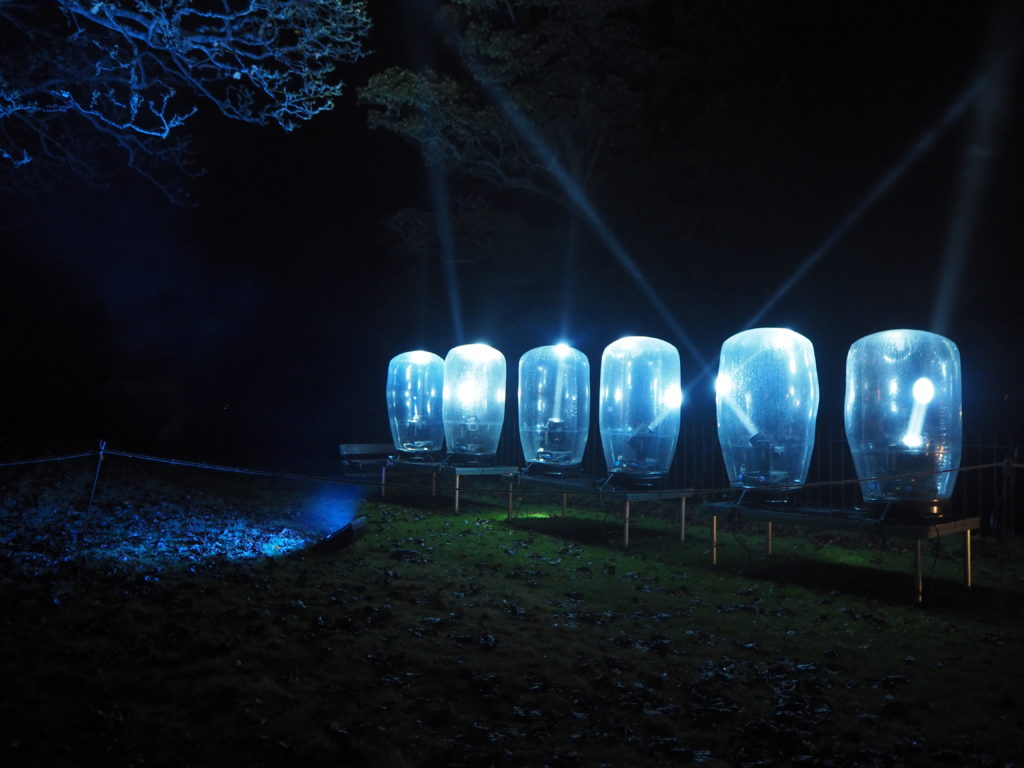 Covid Safety-Measures
Friendly stewards were very visible dotted around the trail. All wore masks and helped to ensure everyone knew where to go. Hand sanitiser stations were also dotted around and we were specifically asked to use it at the beginning of the trail. Signs were up at various intervals reminding people to distance – with notices to say masks were not mandatory but advisable all the same! As a result, I didn't ask the kids to wear them for the whole time but Mike and I did for most of the trail.
At some points of the trail I did find that people naturally bunched together. There were various points with specific scenes or animations that really meant people would stop/take photos. At this point we would just hang back and wait – we didn't feel anyone particularly was crowding us and found it easy to distance. Those who didn't want to wait, simply walked past by walking just off the path to pass the slower movers!
For more details and to purchase tickets – please check out the Wondrous Wood website. We were gifted press tickets to be able to provide this review – but all thoughts, words, and images are our own. We're really grateful to Wondrous Woods Team for supporting us in this way.