Take Mr Tumble, some Charlie Chaplin, and mix it with a spot of Pingu – and you've just about got 'Sunshine.' Even thinking back to this morning, it's hard not to smile just at the mere memory of the clowning duo of Mr Sea and Mr Sand – who together form this show from Stickyback Theatre.
The show begins with the grumpy Mr Sand who has a obviously planned a day at the beach – solo. He soon finds his paradise interrupted by the chipper, but accident prone, Mr Sea. At which point the hilarity begins.
Imagine every possible thing that would make children howl with laughter – and then roll them all into one show. We had water fights, biting crabs, collapsing deck chairs, seaweed monsters, the entire audience lobbing beach balls at Mr Sand, jokes about underpants, nonsense noises…. the list goes on. Whilst some of these may have been repetitive, it really was impossible not to laugh at the silliness of it all. It also struck me that this is exactly what little kid humour is sometimes – if something is funny once, it's funny endless amounts of time. It also meant that Thomas (aged 4) picked up on all the jokes and just laughed more each time.
The timing of each skit was perfection as the performers leapt from one to another – keeping up an incredible pace which must've been utterly exhausting. I loved the involvement of the audience at times as we got to join in on all the fun and some of the ad libs just added to the craziness of it all.
Although I found the antics of the duo hilarious in their own right, the utter belly laughing from the children of the audience was a real joy. Thomas was bent over laughing at times and he wasn't alone. At the end of the show a small boy approach Mr Sand to say, 'I'm six and this is the best show I've been to!' It was clear that every one there really enjoyed themselves and were only left wanting more.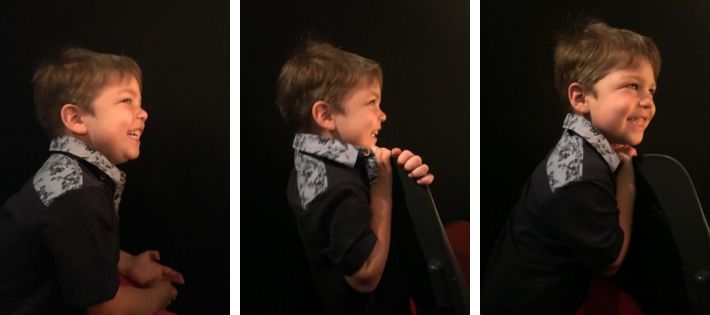 I would recommend sitting close to the front as the seats are very close to the stage, and children a little further back would've struggled to see a couple of things during the show. We were luckily in the second row and Thomas didn't have someone sitting in front of him so he could peer round. But I did kind of regret not getting a seat right at the front!
At the end of the performance, after all their fighting Mr Sea and Mr Sand had become friends and agreed to meet the next day. I hope that you'll be able to make it too!
It's a 5***** rating from Thomas.
P.S. We were gifted press tickets in order to provide this review but all thoughts and opinion are entirely our own. You can buy tickets here.
Aug 6-11, 13-25. Underbelly, Cowgate – Delhi belly. 11:00. Stickyback Theatre. Recommended for 3+