This afternoon we had the pleasure to attend Ross Collins' event at the Edinburgh International Book Festival. Rainy Day options for kids in Edinburgh is always a tricky one, but what's better than hearing the rain tap overhead whilst you listen to a good story?!
Both of my kids were already fan's of Ross Collins' book, 'There's a Bear on My Chair' because of it's cheekiness. I love the humour too but love how the illustrations are at it's fore – they help to tell the story and to capture the kid's interests. But a good author/illustrator doesn't always equal a good public speaker – but thankfully, Ross' humour continued to shine through today and he entertained a packed tent of families admirably.
As a father of a small child himself, I'm sure he is used to the randomness of kids – but he divided his event into segments that meant the kid's really didn't need to concentrate for that long!
He initially taught us all how to draw a tiger – which caused no end of mirth with the kids before reading a book he's recently illustrated called 'I am a tiger.' I don't really want to explain exactly why this was incredibly silly as I don't want to spoil the plot. But I think this will soon be a firm favourite at bedtime story time!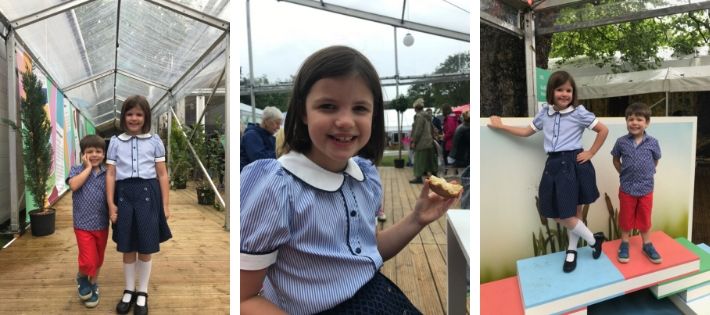 Ross continued the interactive style of the event but giving the kid's a wee challenge based on the story they had listened – again causing a lot of laughter and giggles!
We then got to learn about the book Ross has most recently written and illustrated himself – 'This is a Dog.' This involved kid's offering all manner of animals noises, Ross telling the story – but with an awful lot of cat calling from the kids! He interacted with each of them in a lovely way and my two certainly didn't hold back from taking part too.
Whilst this wasn't an event for kid's to run wild, it certainly wasn't quiet! Ross seemed utterly unfazed by a couple of younger ones who were up out of their seats – and included children shouting out as part of his story telling. I was glad I took a snack for Thomas who really doesn't have an interest in drawing yet – but Katie thought being handed a pencil and pen was wonderful!
At the end of the event, kids were allowed to ask questions which varied quite wildly from 'What do you like to do in your spare time?' to Katie's question – 'how do you get a book published?' I thought Ross' answer was spot on, as he explained (simply) what a publisher does and told Katie that she would have to send her stories and illustrations to a publisher. But he added that if any publisher said no, that she shouldn't give up but should just keep on trying. Coming from someone who has written 16 books, and illustrated 130 – but who didn't get published first time – it seems like good advice!
After the event, we had the opportunity to buy some books and to get them signed. Ross again, was brilliant with the kids, really taking time to chat to them and to make them laugh. I'm delighted that he'll be visiting my kid's school soon as there's no doubt he has the trick to helping kid's enjoy books.
P.S. We were gifted press tickets in order to provide this review but all thoughts and opinion are entirely our own. There are lots of Family Events on at the Book Festival – some free and some ticket – find out more here!