For some people watching their three year-olds leap into swimming pools unaided may be slightly terrifying – but for me, it is a joy to behold. Although I am always close by, I am absolutely secure in the knowledge that Katie has the skills to get herself out and won't panic being underwater. She absolutely adores the water and will do anything to prolong her time in the pool.
However, this isn't confidence that she has gained overnight and a huge amount of thanks must go to Karina Reinhardt – her first swimming teacher!
I'm therefore obviously delighted that she has agreed to guest post on the blog and share a little more about her own journey and the benefits of swimming with your baby:  
We're very lucky in Edinburgh; it is so well equipped for new mums. Wonderfully welcoming cafés to meet friends and enjoy a much needed caffeine hit to get you through the day, beautiful outdoor spaces, when the weather permits, and an abundance of classes for new mums to take their babies to. When I had my first child six years ago, I was overwhelmed by the number of classes on offer. Music, baby signing, sensory, massage, baby yoga and swimming, were just a few I considered.
You won't be surprised to hear that first on my list was swimming. I spent most of my childhood in the water and knew this was an activity that I wanted to do with my baby. Having only taught older children while I was at university though I probably didn't realise just how much I would enjoy it. So much so I went on to set up Turtle Tots in Edinburgh and East Lothian in 2012.
Yes, I was a swimmer in my younger days so knew I liked spending time in the water, however I didn't appreciate everything else that swimming with my first born would bring. I'm now on baby number three, and as a family we relish the time we spend in the pool together, both in classes and as part of our weekly family splash arounds (on holiday it's all day every day!).
As an ex-competitive swimmer and water-polo player, and a lifeguard, you won't be surprised that for me swimming is a non-negotiable for my children.  For a sport that brings such amazing physical, social and emotional development, and one (the only?) sport that can also potentially save lives, swimming classes were the top of my list for my own little ones.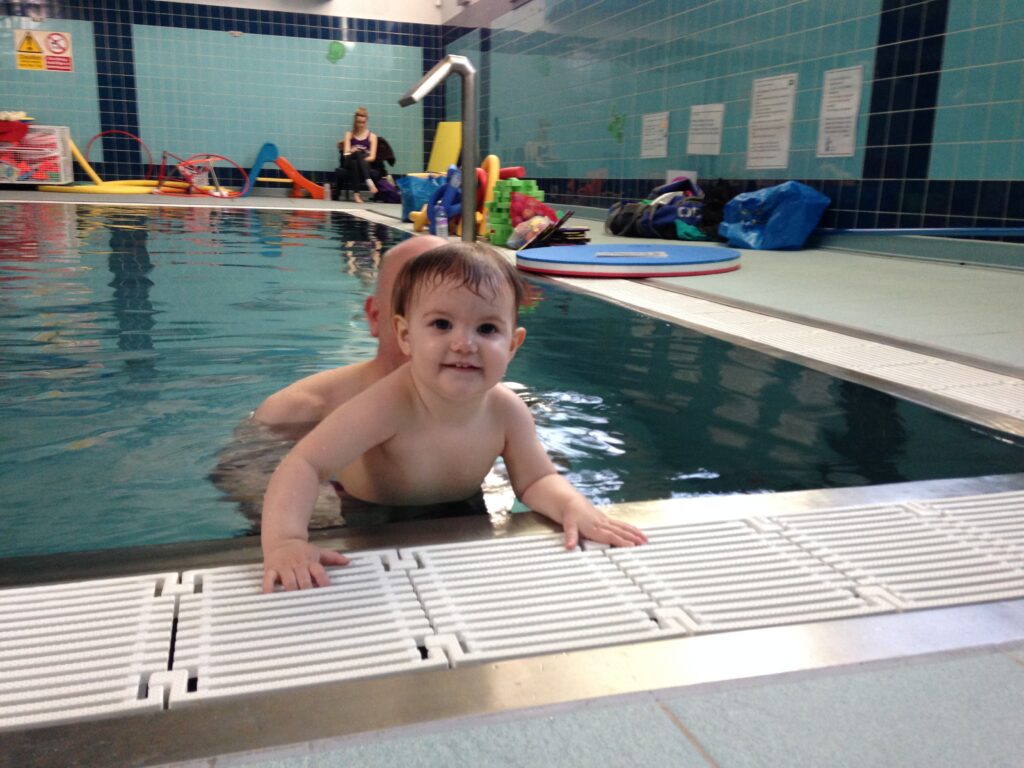 For me, the emotional bonding experience that swimming together brings was one of the reasons I knew I was in it for the long haul. The closeness of holding your baby as they are supported by the water. The smiles and giggles as they learn to splash, as they enjoy being swooshed around in the water and the first time they get to swim underwater – all memorable experiences. What they can do from so tiny never ever stops amazing me, and I LOVE to see the look on parents faces when they realise what their child is capable of!  Yes the odd meltdown along the way, we've all been there (even swimming teachers' children have wobbles now and again), but you move on and the next class your baby is back to their water-loving little self.
The sociable nature of swimming classes was another reason I have taken all three of mine swimming from just a few weeks old. Being a mum can be lonely, and scary, so it's so beneficial to meet other mums with babies the same age and stage. The socialising never ends at the end of the class, coffees and play dates usually follow as the wee ones grow, and we often see mums and dads back in the same class as their friends with baby number two. And one of my favourite things about swimming, when life is always so busy and there is always such demands placed on us, is that we cannot be distracted by the phone or the tv or ipad in the pool, we're there, with our baby, and we are spending that time just with them.  For me personally this is especially true if you're lucky enough to be able to do a class with your second or third child, as it's such a special bonding time that's hard to replicate when your other, noisier, children are around.
And whilst you won't burn as many calories as running a 10km, it is a great way to enjoy gentle, toning exercises. Lifting a bouncing baby up and down whilst singing their favourite Turtle Tots song, will always help tone those arms. And I know a big consideration for parents when choosing swimming over other activities, is the fact that it is a life saving skill and the sooner children become safe and confident in water, the better.
I really can't recommend swimming with your baby enough. And classes are a great way to commit to swimming on a weekly basis. Turtle Tots classes are designed to ensure all these benefits are experienced by both parents and children. From Turtle Tums with mums-to-be, to seeing our Turtle Toddler graduates, it is wonderful to be able to follow the journey of so many children. And as a mum, I'm very thankful I now have three water-loving children, two of whom can swim independently (the other a top splasher!), and thanks to the time spent in the pool with them, my husband and I have made some wonderful family memories.
Karina Reinhardt is the director of Turtle Tots in Edinburgh and East Lothian. For further information please visit the Edinburgh and East Lothian Turtle Tots website.