I was lucky enough to receive a subscription to Kindle Unlimited as a Christmas present last year. Whilst on the face of it this is an excellent present for someone who enjoys reading as much as I do, I was initially a bit sceptical. Scanning the lists of books available on Kindle Unlimited can be a little uninspiring. A lot of the 'top picks' look a little trashy and don't contain that many big names.
I began to suspect that Kindle Unlimited was a little like a big discount store: they have some big brand names – like Harry Potter or The Hunger Games – to entice you in, thinking that there may be other popular titles, when in fact these are rather thin on the ground and you're left with thousands of self-published authors putting forth drivel.
I was however determined to give it a go – I knew that the first month was free and could easily be canceled. I also knew that the 'giver' wouldn't be offended (I hope) if I just asked if I could buy a book a month with the subscription fee.
I have to say that I noticed that many of the books available on Kindle Unlimited do not cost anywhere near as much as the subscription fee to begin with, so even if I read at my maximum speed – it's actually quite hard to get good value for money! I gave it a good shot though…
As the end of January looms, I've read a total of eight books and am half way through my ninth. Seven of these are from unlimited, one from my bookshelf and finally one that I borrowed from my neighbour!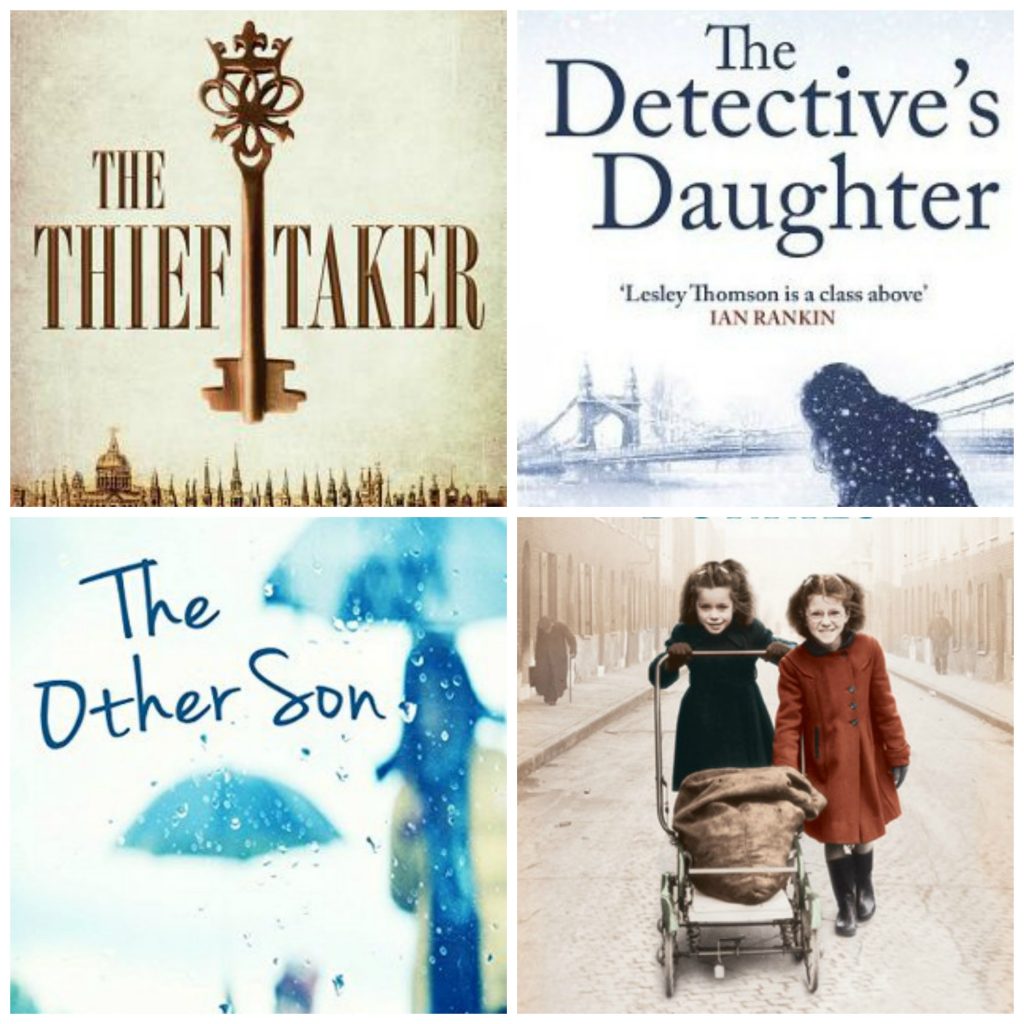 The Thief Taker by C.S. Quinn (Kindle Unlimited)
The year is 1665. Black Death ravages London. A killer stalks the streets in a plague doctor's hood and mask…
I have to admit to being totally engrossed in this one – I really liked the vivid descriptions, and the pace of plot allowed for a nice afternoon of escapism. It's received a lot of criticism on Goodreads for poor writing but I have to admit anything irksome went over my head entirely. I thought the ending was a bit weird (won't give anyway any spoilers) but as you can see it didn't put me off reading the sequel!
The Detective's Daughter by Lesley Thomson (Kindle Unlimited)
Thirty years later, Stella is dutifully sorting through her father's attic after his sudden death. The Rokesmith case papers are in a corner gathering dust: the case was never solved. Stella knows she should destroy them. Instead, she opens the box, and starts to read…
I have to say that I didn't really enjoy this that much. I found some elements of the story very hard to believe and therefore found myself irritated by some aspects of the book. However, I couldn't get away from the feeling of being watched for a large part of the story and was entirely creeped out that utterly by chance, it was partly set in my hometown. The description of this area was very accurate and combined with some of the more mysterious aspects of the plot had me having the weirdest dreams. Not a book I'd read again but if you're from Seaford… give it a whirl!
The Other Son by Nick Alexander (Kindle Unlimited)
For the first time in years, her heart is racing. Can Alice really change her life?
I didn't want to like the central character in this one for a large part of the story, I thought she was a bit of a contradiction – by the end? I didn't really want it to end. I thought this was beautifully written and has completely shattered by conceptions of 'Indie' authors. The story wasn't really that complex but explored a complicated family dynamic really well – it invoked an array of emotions and I'd definitely read it again if I needed to smile.
The Four Streets by Nadine Dorries (Kindle Unlimited)
All I can say is that I'm glad I didn't pay for this one! It starts out as quite a promising read about a close knit community in 1950s Liverpool. But with the introduction of a random ghost, lack of any real characterisation, and a hideous amount of stereotype… I felt like I was wasting time reading. I finished it but I needn't have given the predictability of the plot.
To be generous, I think the author was possibly trying to be edgy by introducing emotive story lines. But none were explored in any real depth and it felt like someone just shouting controversial statements to get a reaction. My recommendation? Don't read it.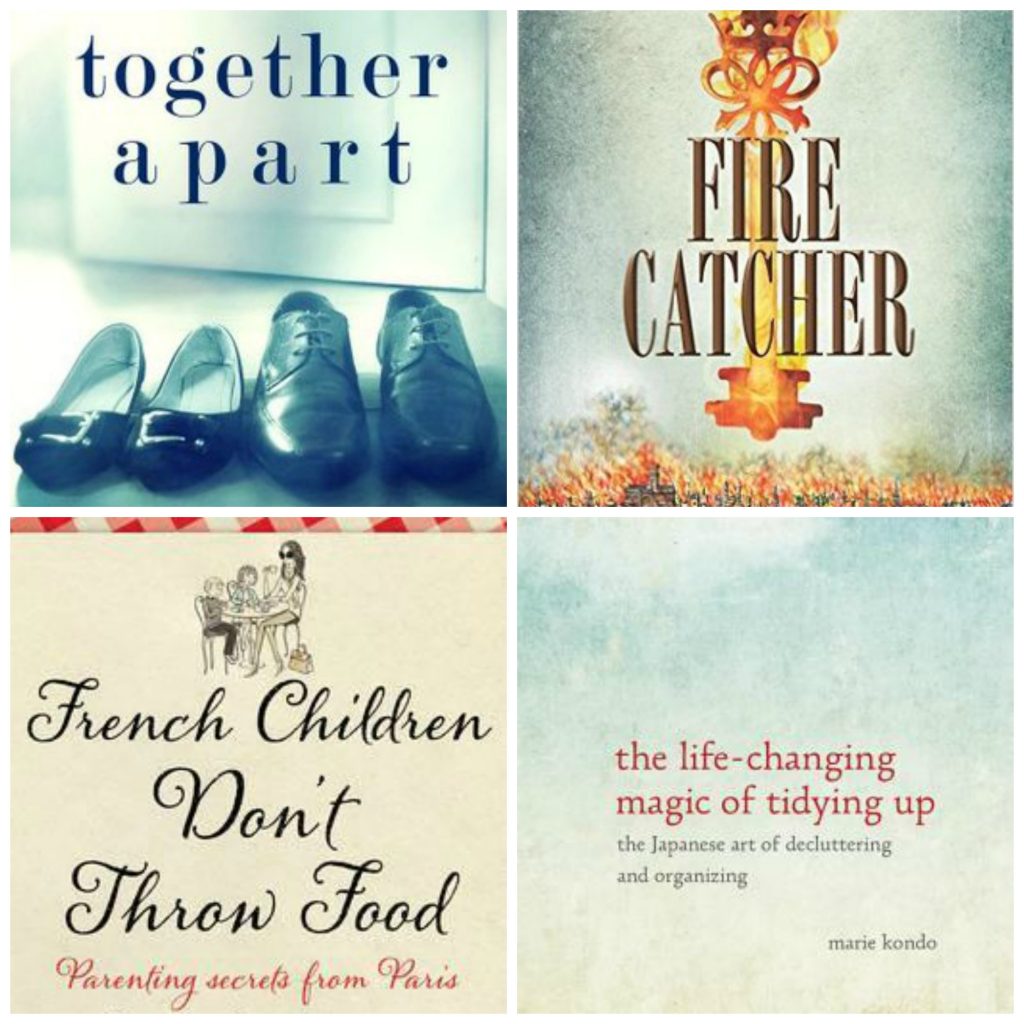 Together Apart by Natalie Marin (Kindle Unlimited)
When Adam proposes to Sarah, the last thing he expects is to be single and heartbroken less than forty-eight hours later. But Sarah has a secret – and she's willing to sacrifice everything to keep it.
Ever read a book and are utterly unsure whether you liked it or not? Contrary to some of the reviews I didn't think the conclusion of this one was predictable – but I knew SOMETHING was coming. The biggest mistake was beginning to read this during Thomas' last feed at night – I wanted to know the end so kept reading… and reading… until 2.30am. When I finally finished – relieved I had finished but not sure whether I had enjoyed getting there.
I definitely have a vivid picture of the central characters and could empathise with both of them at different moments through the book. I think the author did a great job of describing their dynamic and what they were going through. I guess it just wasn't that comfortable to read at times.
Fire Catcher by C.S. Quinn (Kindle Unlimited)
As with her first book in this series, I just thought this was a really good adventure. There are certainly various levels of plot going on throughout the book but I wouldn't say it gets confusing. Both books were both quick reads for me and much more enjoyable than watching a film. The descriptions are vivid, the history (fairly) accurate and the story line compelling – not much to complain about!
French Children Don't Throw Food by Pamela Druckerman (my bookshelf)
This is the second or maybe third time I've read this book but it gives pause for thought on each reading. I think anyone with children would find this an interesting read – either as a lifestyle to aspire to or utterly reject!
The premise is fairly simple – it's an observation of how children are raised in Paris in comparison with the US and to an extent, the UK. It's obviously just a small window but I think it raises some thoughtful points and I have found myself repeating a few titbits from the book at various moments.
My favourite is the premise that the child is not in charge of the household – I chuckle a little here as Katie declared herself Queen this morning – the parent is meant to announce that 'I am the one who decides!'. Whilst this may seem comical, I really like it as a reminder!
The Life-Changing Magic of Tidying Up by Marie Kondō (Neighbour's coffee table)
I had read a few reviews about this one so when I saw it lurking on my (fabulous) neighbour's coffee table – I couldn't resist asking to borrow it. I'm not sure it's one to gallop through but I guess I'm about half way through already.
I'm partly irritated by it because I have a whole house to tidy and thus far she just seems to be talking about clothes, books, papers, miscellaneous and then sentimental items. The 'miscellaneous' category has to be pretty huge if it's going to have to incorporate all the stuff lurking in our garage!
However I do get it – her advice is to only retain items that bring you joy. I really do hear this one. We've recently invested in some new coffee mugs. It seems like such a trivial thing but before we just had this jumbled collection – with many that I actively disliked. Why start the day sipping from something that you don't like? I decided I don't have time in life for design that I don't like – now I have mugs that bring joy my day does at least start off better!