I'm always on the look out for new things to do with the kids – gotta keep life exciting! – so this week took the gang to explore some of the new activities at The Centre Livingston. We've really enjoyed their events before and had an absolute blast exploring all the new things on offer…
---
Track down Creatures on the Animal Trail
Dotted around The Centre are eight different creatures to find – all larger than life – but equally cool! We collected two different worksheets from the Customer Service Desk – each aimed at different ages – and quickly set off to solve all the clues!
Whilst some were easy to find, we really did stretch our legs covering The Centre to discover them all. Katie's favourite was obviously the winged unicorn but I really did think the giant panda was the cutest!
Find out what's buzzing at the Activity Station
The event staff are always brilliant with the kids and gave Katie and Thomas a very warm welcome. One of the staff explained that whilst she may look very much like one of the elves that was there at Christmas, she's actually had to diversify and also help out the garden fairies. She soon had the kids giggling and remembering all the great things they've done at The Centre over the last year.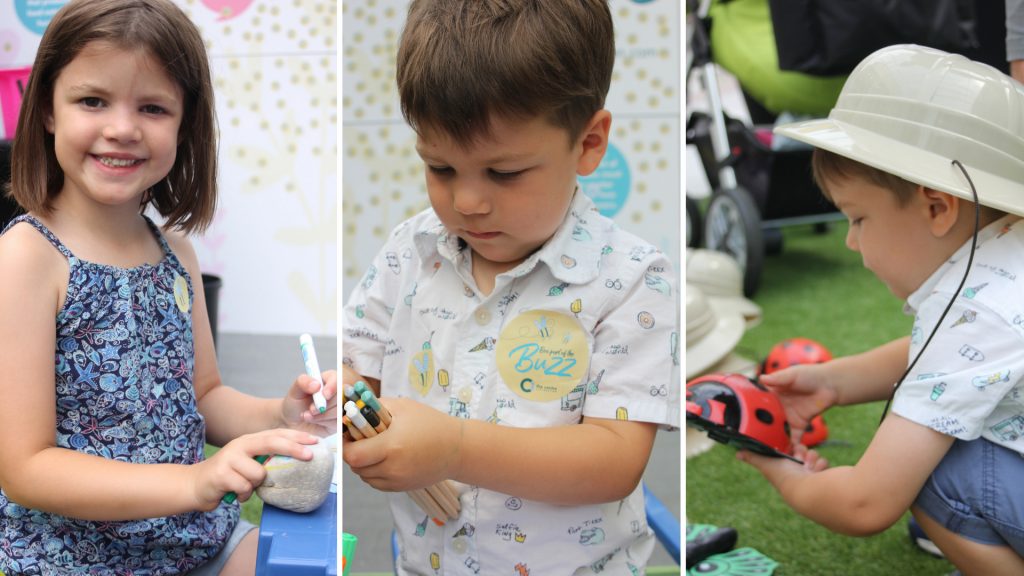 On this particularly visit, the kids soon settled down to paint some rocks and colour in some sheets. Katie is really a lot more 'craft' focused than Thomas and really liked the paint pens on offer – opting to create a butterfly design with various words written around it. Her spelling – as usual – was on the inventive side but it certainly was creative. Thomas on the other hand thought the best approach would be to pick up ALL the pencils and colour with them at the same time. I suppose it makes for a quicker technique but didn't really result in anything particularly recognisable!
Thomas quickly moved on to the dressing up station preferring to play to with the large toy ladybirds and butterflies. He's loves to play safari adventures and is obsessed with the jungle so this was just perfect for him! Another great activity available was adopting a bee: for just £1 the kids got to name a bee, add a sticker to the wall and receive a certificate with all of the details.
Bees are obviously so important for pollination and the health of our eco-system, so it was a great chance to talk to them about how flowers grow and to remind them about where our yummy honey actually comes from. All the funds raised is going to bee conservation so it was great to be helping out with that. There's some great 'garden themed' activities running so it's always worth checking what's going on!
Discover new heights at Aerial Adventures
When Thomas first caught sight of the soft play that now sits at the top of The Centre there was literally no holding him back. Even held up in the air his little legs but were already running towards it and his face was just priceless. He really does not like to sit still at the moment and has SO much energy to burn off. He was straight in to find the longest slide but was in absolute heaven when he found the ball shooter. Ben is amazing at going in to softplay to look after him now so Mike and I can just take the time to grab a coffee. The cafe had a great selection but I also noticed they had an area for reheating baby food or for just grabbing a cup of tap water – so handy!
Katie adores softplay as well but really could not resist trying out the HiFall. Kids can ask to be raised to the height that they are comfortable with but I was amazed that she just said 'keep going' until she got to the top. She had the biggest grin the whole time and although she let out a bit of a scream – was demanding to go against instantly!
Ben and I decided to take on the 15m HiClimb climbing wall trying out each of the 5 routes up to the roof of The Centre. The obstacles aren't fixed in place like a traditional climbing wall but I thought that adds to the challenge and makes it a bit different. There's nothing pulling you up as the auto-belaying devices are really just there to control your decent – or in my case fall! It was really fun to try something a bit different and so great to have something for all the kids.
The final element of the Aerial Adventure is the HiRide course. The initial step off the platform to zipline to the start took a bit of a deep breath but once I got going it was amazing. It felt utterly surreal to watch the shoppers passing below and goodness knows what they thought as they looked up! Some of the obstacles were straight forward but for others I was so glad to be harnessed in. There is no way I would've crossed the spinning roller beam without falling otherwise!
With Ben close behind me I did feel my competitive streak emerge as I went round – apparently the course record stands at 56 seconds! I would advise wearing comfy clothes as you do need to wear a full body harness but you can keep going for 20 minutes so there's plenty of time to hone your skills whilst up there!  Ben just wanted to keep going until he broke the course record so we'll need to make a return visit soon!
Enjoy at family meal
There are so many great places to eat at The Centre that we're always spoilt for choice. Everyone has a different favourite but on this visit we opted to go to Ask Italian. They have a lovely kid's menu and always have some great seasonal specials so there's always something new to try.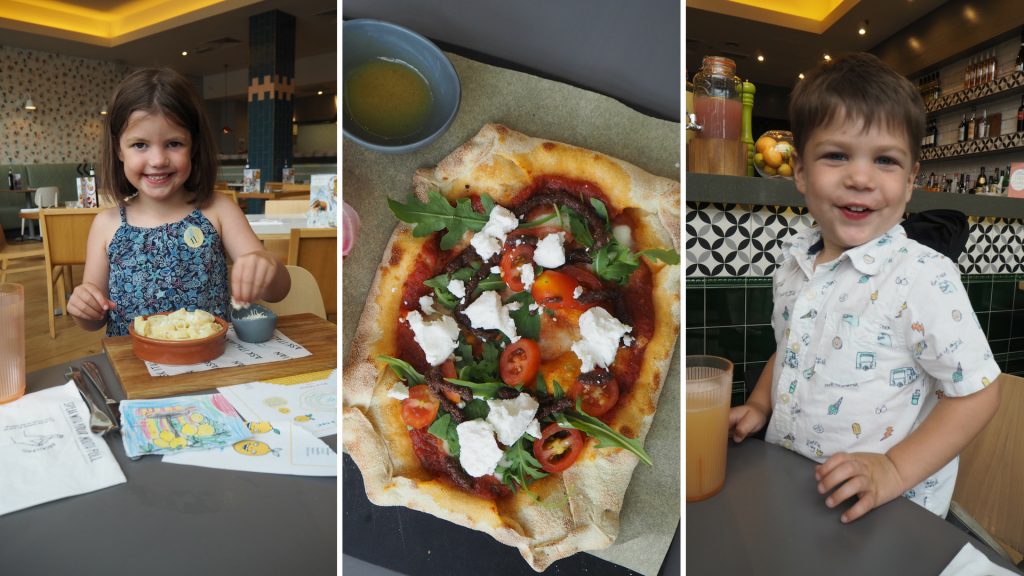 The kid's really love the 'dip and dunk' option which is essential a bowl of pasta wheels, a bowl of tomato sauce and a bowl of grated cheese. It's interesting to see how they each eat it differently as Ben did as instructed – dipping and dunking – Katie bypassed the tomato sauce entirely whereas Thomas tipped them all in together and just went for it! I'm not sure what that says about they're personalities but they certainly weren't hungry by the end of it!
Mike and I both chose to have a 'light' option – a smaller pizza with a side salad. I thought this was just right for lunch as I didn't want to be too full for shopping but equally needed something to keep me going!
Shopping for everyone
One of the things I love about The Centre is that there really is something for each of the kids along with Mike and I. Smiggle is like Katie's dream place on earth and she would happily spend hours browsing the shelves, whereas Ben would happily do the same in MenKind! Thomas occasionally shifts his focus to trains but is really love at the moment is LEGO so The Entertainer contains all kinds of treasure for him. And all three go absolutely crazy choosing bath bombs in Lush!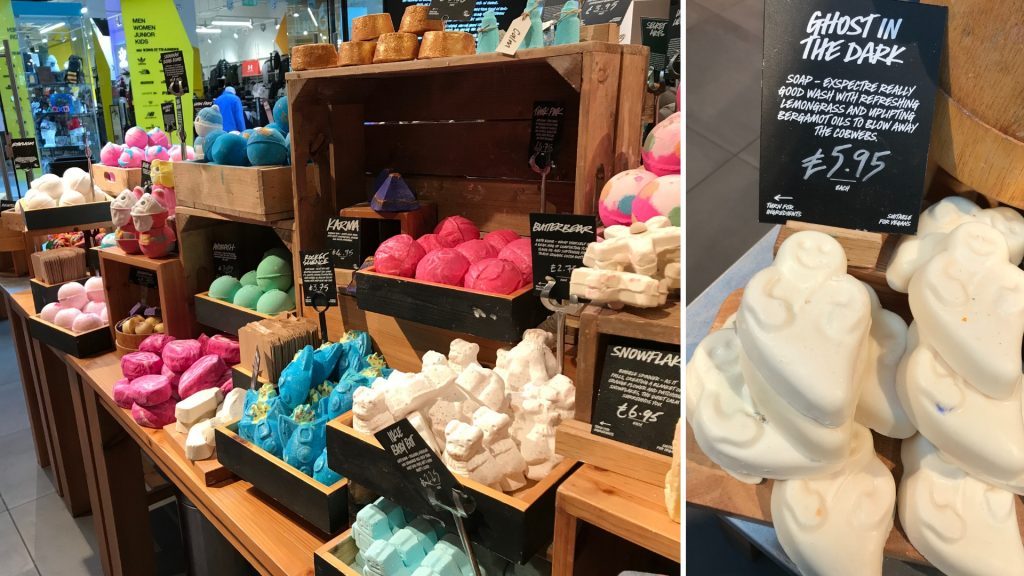 For the summer holidays it was lovely to have each of the kids choosing a treat for themselves but also grabbing a few things to make life easier too. Thomas had recently broken Katie's sunglasses (brothers!) but Accessorise had a fab range for her to choose from. With the festival upon us – I hope that sunnies will be a key item – but also found the cutest bag for Thomas in Smiggle for him to carry his treasures!
---
I loved having something different to do on a shopping trip and that Mike could supervise the younger two in the Softplay whilst I grabbed a few things from the shops. We had a wonderful family lunch in Ask Italian (the dip and dunk option is fantastic for kids!) and before we knew it the day had passed in a whirlwind of laughter and adventure.
As always, thank you to The Centre Livingston for supporting Edinburgh Life with Kids. This is a sponsored post but all views and opinions are entirely my own!