I'm still a fairly new convert to Instagram but a quick look at my stream would tell you that I'm more than a little obsessed with the monochrome style. Aside from the fact that monochrome is gender-neutral, I really like the minimalist approach to clothing. It seems clean and simple. Calm even.
I think many baby clothes are white for a good reason; without getting too esoteric about it – I think white is a pure colour, a blank slate, a starting point. The place babies begin. White allows colour – or personality – to show. Obviously it's also the colour of peace , which is certainly something to strive for in an infant!
But what of black? It's my instinct to say that black is a sad colour, it's dark and conjures ideas of depression. If asked what colour a baby should be dressed in – black would never have been my first instinct.
Yet, I can't help being attracted to the spectrum of monochrome colours available from white, through the myriad of grey to yes, black. Perhaps it's because I myself often opt to dress in these colours but they just strike me as quite stylish!
Today I thought I'd introduce you to some of my newer acquisitions for Thomas' wardrobe and as a result, some of my favourite Instagram profiles: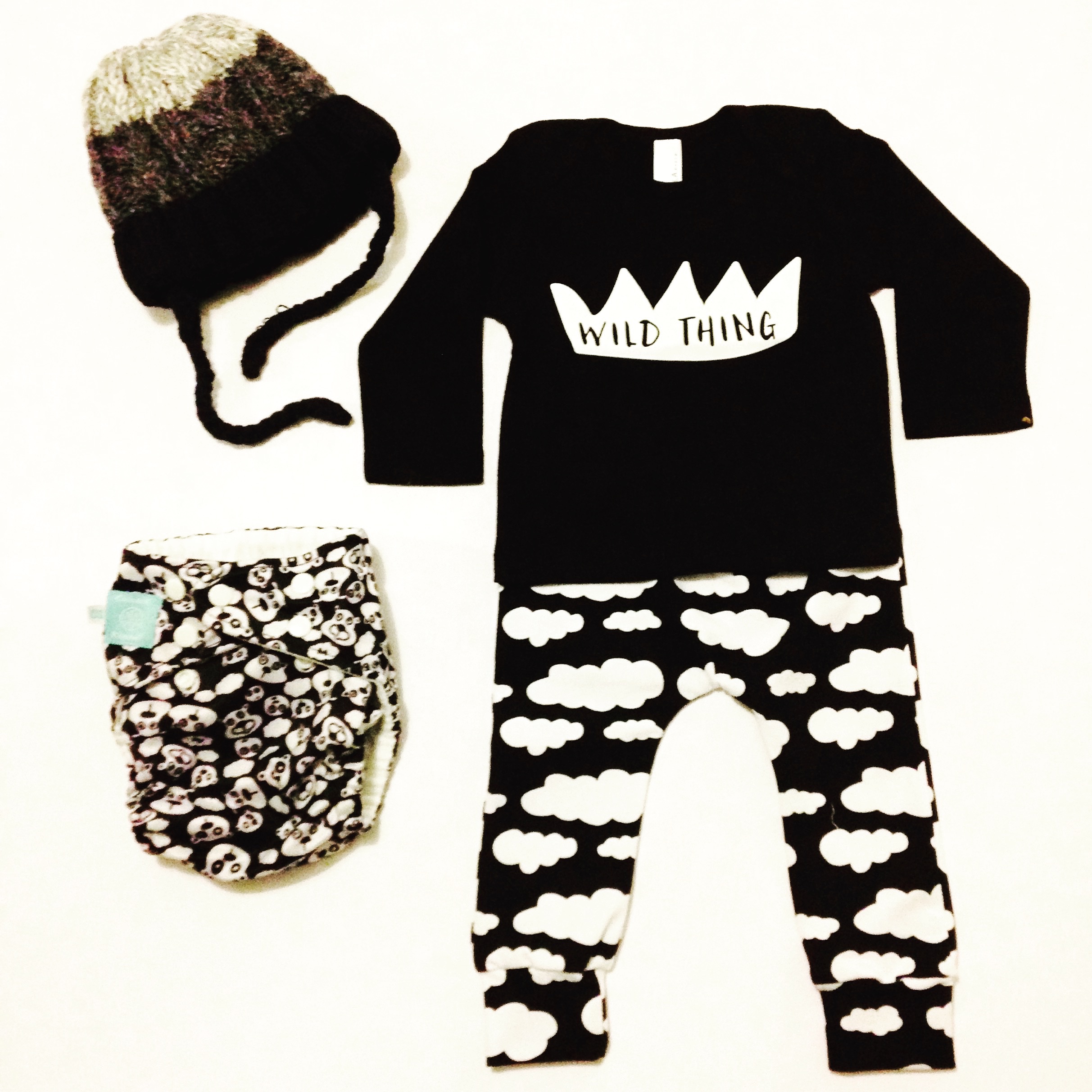 As a die hard fan of the book 'Where the Wild Things Are', this t-shirt instantly just sang to me. Whilst it is black, I think this just serves to make the logo be more striking. It's still a little big for Thomas, but I'm certain it will be one of our most frequently worn items in his 6-9 month wardrobe.
It was hard to not buy Fred & Noah's entire range for Thomas as I don't think there was a print I didn't love – monochrome or otherwise! But this was the first affordable range that I've found that actually are cut for cloth nappies. Obviously, you could easily wear over disposables, but I was happy to find something in the right length that allowed for a bit of a bigger bum!
However, aside from the practicality of these – I just think they are adorable. Even on the first outing, they drew comment. I think you would be hard pressed to find something of equal design credentials on the High Street – and buying these had the added bonus that I was supporting an Independent retailer.
On that note, Edinburgh people – please check out 'Love from Indie Street' this Christmas! It's a great new venture designed to support some of the cool independent business' in Edinburgh and aims to boost the local economy – definitely can't argue with that!
I love that we're now in a position that we can co-ordinate Thomas' outfits with his nappies! On the one hand, as my husband pointed out – no one sees them. But on the other? I do and it makes me smile.
I'll write more about our conversion to cloth at another time but suffice to say I'm really happy with how it's going thus far. We've got zero nappy rash, the washing hasn't been a hassle – and whilst I'm a little scared by the intensity of some of the people online with their obsession over certain prints… I'm beginning to get it!
There are so many Instagram accounts for Zara that I'm not sure which is actually the official one – so I've opted for the one that says it is! Not sure if this is really the case or not though!
I personally find Zara a bit hit or miss. I certainly like a lot of their designs but think the quality can really be lacking. Some of their t-shirts for example are painfully thin and don't stand up to repeated washing. I know the prices are low – but when you're clothing kids, this can be a bit of a bug bear. That said – I'm always happy with their accessories and think this fleece lined hat is perfect for Edinburgh Winters.
Finally, no Edinburgh Instagram list could be complete without Bon Tot. Aside from their online presence being epic, their shop on St. Stephen Street is just gorgeous. Again – I'd gladly buy the whole stock!
Of course, I'd also love it if we could hang out on Instagram too! You can find me @edinburghwithkids
Would you dress your kids in monochrome – or do you think it's just too drab? I'd love to hear what you think in the comments below if you've got time 🙂