When I shut my eyes and envisage my perfect house, it really includes original antique floorboards. In my dreams they are of course entirely clear of clutter and spotlessly clean as well. But in reality, when you have kids about it's nicer to have something soft for the little ones to run about on.
No matter how much I cajole them into wearing cute slippers, Thomas particularly just delighted in running about with bare feet. Rather than carpeting the whole house, the most obvious solution is to put a rug down.
Unfortunately, this may not be as simple as it first sounds. At least for me it's not.
There are so many different rugs to choose from! Some are flat woven – and therefore not as cosy for little toots – but are easy to clean. Whereas others you could sink into with the warmth they provide – but good luck trying to get baked beans out from them.
Whilst I like to threaten my children with kinds of impending doom if they eat food anywhere but the kitchen. This evidentially hasn't worked given the amount of banana smushed into my sofa.
But yet I persevere.
I love the current trend of Scandi that has swept through every design blog and Instagram channel alike in the past few years. But my house is not white. I do not have cavernous windows. And I'm not married to someone called Sven.
I was tempted to call my son Floki but that's another story.
I've finally settled on the idea that we're more Boho Scandi. In my mind, that means I try for less clutter but I'm still allowed any mix of colour and random stuff that I want. I'm still working on convincing Mike that we need a Papier-mâché animal head but in other respects I'm winning – as our house is a bit of a riot of colour.
Recently, our attention has once again turned to decluttering the playroom. In an effort to actually get the kids to play with the toys they have we have a plan to simplify everything and rotate what they've got. By storing 75% in the garage and just having a small amount for them to focus on – our theory is they might actually appreciate it more.
This of course remains to be seen as we're still drowning in stuff right now. But I at least get to ponder what rug we might get to fill the vast amount of space that will appear: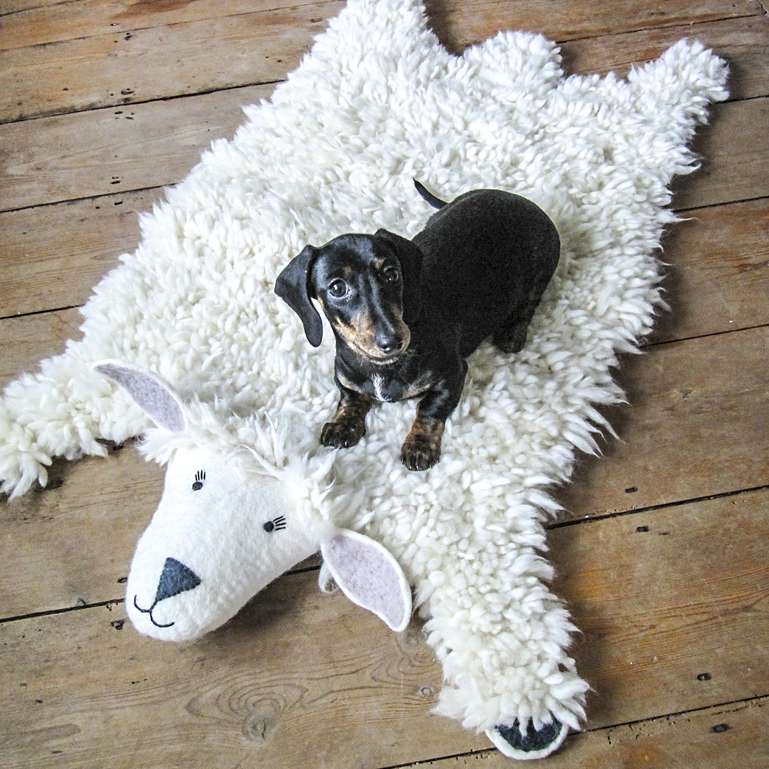 So this wins for comedy value and cosiness factor. I think the kids would absolutely love this and so would I – for about 10 minutes. If we owned this rug the dog would be no where near it – I would be obsessed with keeping it spotless and the kids would just have to live in the garden.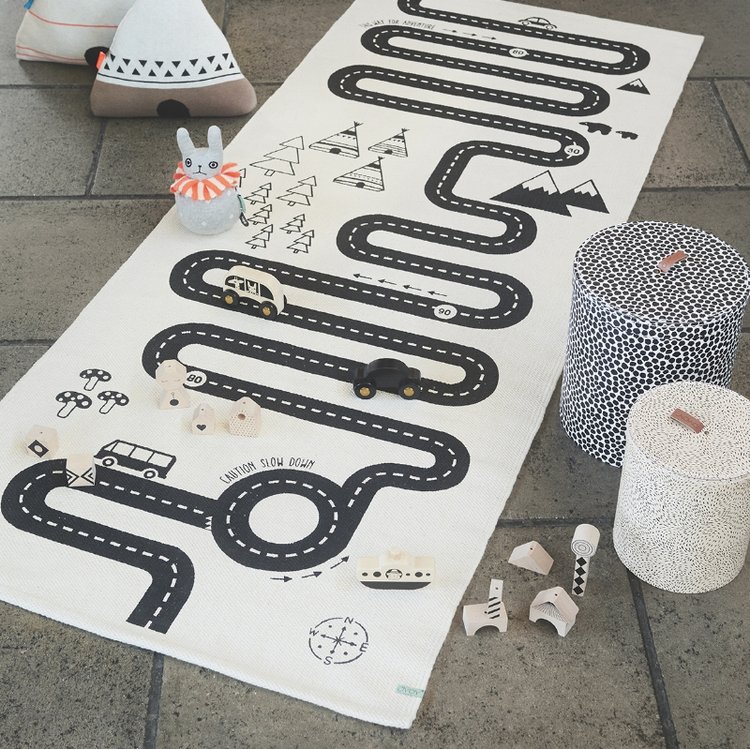 Google Scandi nursery and this is what will appear. Price at £39.99 there's no prizes for guessing why either!
This has been in the kid's room for a couple of years now, and despite the colour – is still looking decent. Although we've also owned the IKEA road map complete with lots of exciting places, this has the one they've opted to play with. I guess when kids are presented with a world of technicolour, monotone sometimes actually stands out. So one option is to just move this one downstairs.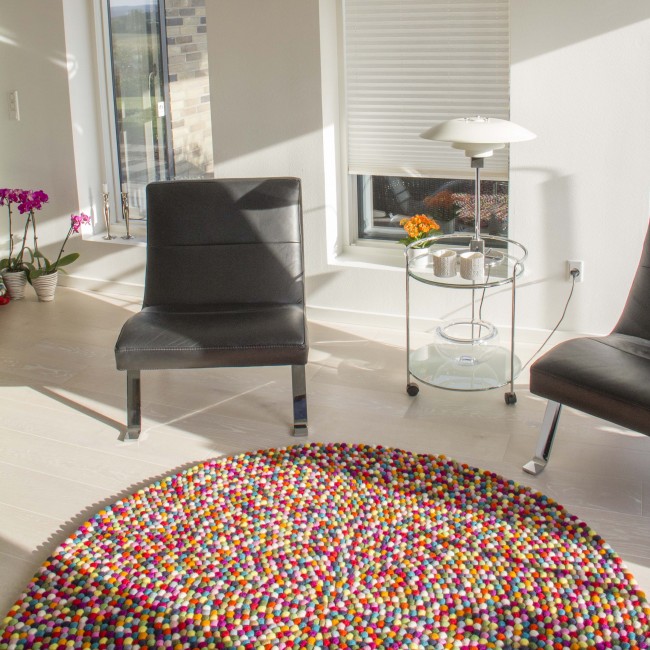 That said, another option would be go in the opposite direction and just embrace the colour. I always imagine that these rugs would feel really nice under foot – a little like having a massage! Although, I could also image the ick that could get trapped within – I could always return to my empty threats.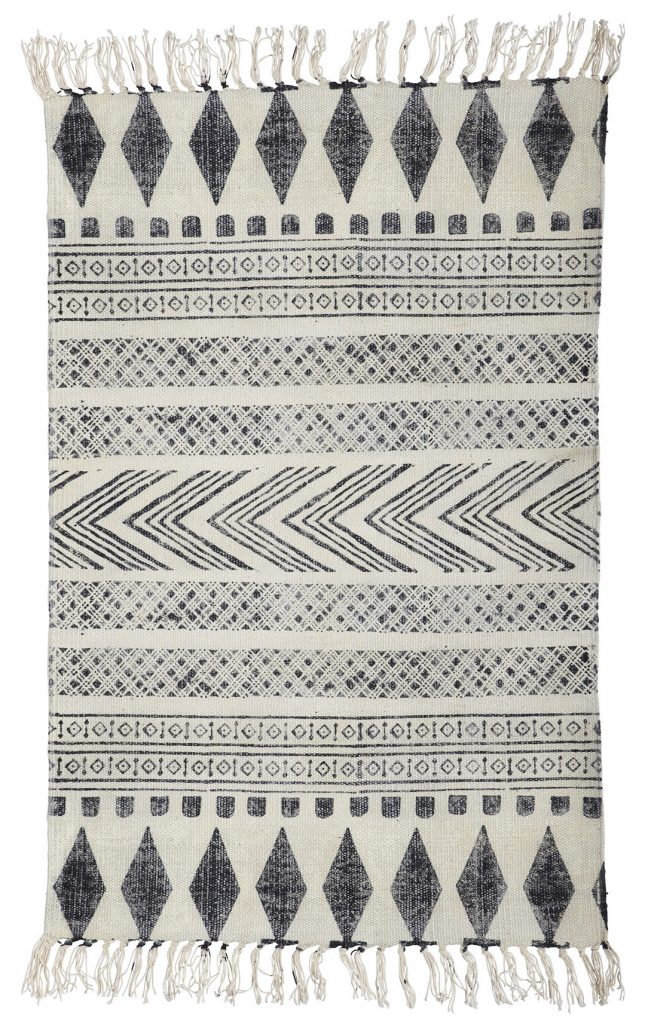 Another option that's a bit more grown-up is this Grey and Black Block Rug. I like that it still has Scandi influences but it's not obviously for children. With Ben (aged 12) also occupying our playroom (albeit with his Playstation) it's nice to try and not be too infantile either.
Personally, I think the sheep rug is my favourite but I could also envisage numerous people tripping over it's head. So it may be worth it for cuteness and comedy value…
Which would you chose? Or do you have any other suggestions?