Like any life change reducing our reliance on plastics undoubtably takes time. Habits are hard to break and when some of the 'alternatives' are not actually that convenient it can be a big adjustment. We've made quite a lot of steps to ditch plastic from out home already but I thought the summer holidays would be a great time to really put some effort in to improve the environmental credentials of our home.
Week 1: The Kitchen
It makes sense for us to start with the kitchen because it's where we've already made a lot of changes. It's also the place that we generally generate the most waste on a day to day basis so focusing on here should have the most impact.
Reusable containers
One thing that has worried me since the 'Blue Planet' effect emerged, was that people have simply thrown away perfectly usable plastic items to replace them with 'eco alternatives.' Obviously, if you were buying a new object then opting for glass or steel is great – but not if you could simply reuse something you already have!
For storing food, we have an array of old take-out containers (which our local is also happy to reuse) but I've also been known to cut up old 2 litre soft drink bottles to store leaves too and from our allotment. I simply cut the top half off and then squeeze the bottom half a little so they slot together. Nothing gets squished and I can put a little water in the bottom to help keep everything fresh in the fridge. 
If you do really need to wrap something or don't have a lid (or plate) to put on top of a container, then bees wax wraps are also a great option. I know you can make these quite quickly, but they are also available to buy for those of us lacking time. They can be reused for between 6 and 12 months after which they are decomposable – I've found a seller I like on Etsy which has loads of great options and means you've also supporting small business!
Cleaning
The obvious time to investigate making your own kitchen cleaner is obviously once you've used everything you've already got up. Which should leave you with a empty spray bottle to reuse! Obviously you can find glass equivalents if you've not got anything to hand or if you need to replace a particularly worn out bottle but most plastic ones should last a good few years.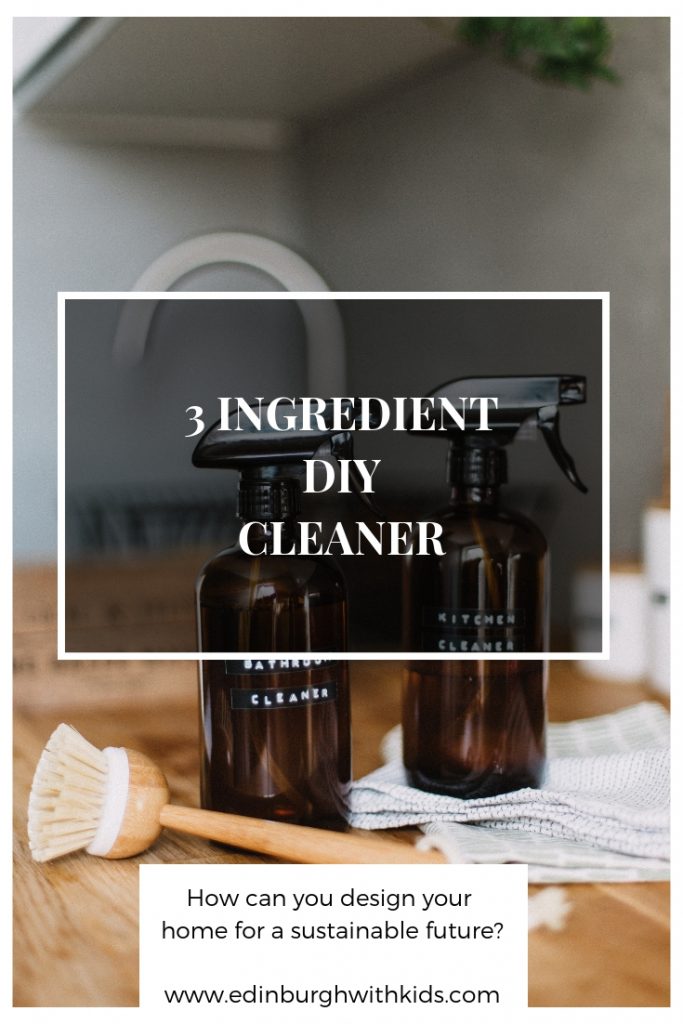 To make a spray that cuts through grease and that also smells nice, I've found a simple mix that seems to work well:
420 ml of pre-boiled water
2 tb of Castile Soap
20 drops of Orange Essential Oil
You'll need to shake the bottle before each use as the ingredients can separate but the oils do help cut through the grease. Obviously, these products do come in bottles too but a little goes a long way and eventually I'm sure more companies with produce these types of products in glass bottles again.
In terms of brushes etc. wooden alternatives to plastic brushes are becoming more commonly seen but the other option is to cut up old rags. Some of Thomas' clothes particularly have become so stained that we really couldn't hand them on (especially with the amount that have holes too!) but actually they're fine for cleaning.
Ready Steady Bake
Although you can obviously buy bread from the supermarket that isn't wrapped in plastic, in the last few months we've also acquired a bread machine. We've found a good recipe for a simple white loaf that I can put on after dinner and that's the kids breakfast sorted for a couple of days.
To keep it fresh we have a tin bread box but I've also found that simply wrapping it in a tea towel works well. Plastic seems to make it get mould quicker (I guess it sweats) so actually this is one that makes for better eating too. Sometimes it can go a bit 'rubbery' but chucking it in the oven for a couple of minutes seems to solve this and also means the butter goes all melty!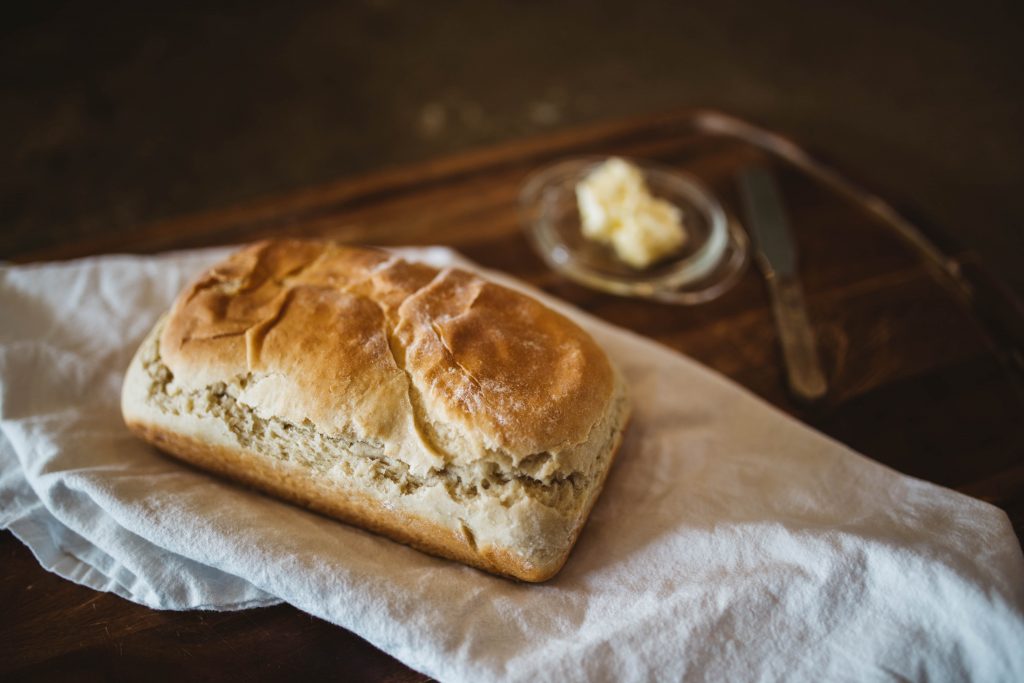 Tea and Coffee
I've been feeling very guilty using my Nespresso machine as whilst I know you can get refillable capsules – the reviews are all pretty poor! Nespresso does make recycling easy in that you can even post empty capsules back – but obviously it would be better to not have a need to recycle!
The obvious solution is for someone to make better reusable capsules but to also go for options like a caffetiere or stove top espresso pot. These both use lose coffee and you can avoid packaging waste by taking your own containers to shops that sell it lose.
The same is obviously true for tea – so many companies actually use plastic in their teabags – but loose tea is widely available. The Wee Tea Company is based locally but actually has options entirely produced in Scotland too – obviously also reducing air miles too!
---
What else have you done to reduce plastic specifically in your kitchen? I'd love to get some more ideas about what else we could do so come hang out on Facebook!