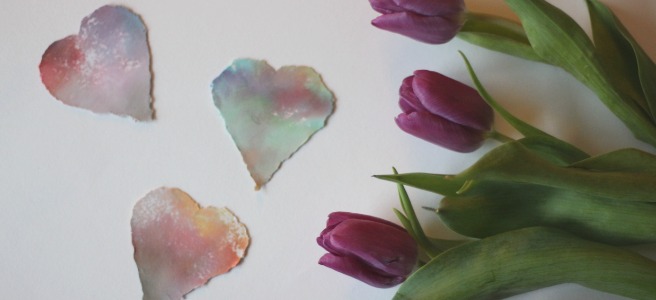 Valentine's cards have always been a cause of excitement in my life. I remember it being such a big deal at school if someone received one – always from an anonymous source of course! It wasn't until I made some American friends at University that I experienced receiving a card from a friend. Simply to say – thanks for being a good friend – Happy Valentine's!
I was really taken with this notion because it meant that Valentine's wasn't so depressing if one didn't receive something. It also celebrated a different kind of love – and more love is never a bad thing!
Of course, the cynic in me says that this is just another way of selling more cards – but that can easily be countered by making your own:
Katie has a list of people this year that she would like to send cards to – I'm glad I'm on the list BUT I certainly wouldn't buy one for everyone! I also think there's something a lot nicer about having one that is handmade. It says to the receiver that the person was willing to take time for them and somehow just seems like a more thoughtful gesture to me.
Katie was also very taken with the idea that the postman could deliver them, although she then thought we should give one to the postman too! I was a bit worried at that stage that we'd have to start a full scale production line but Katie was soon distracted with the actual making of the cards anyway!
To begin I gathered together an array of tissue paper that we had lurking in the craft box. We set about tearing this up into different sizes (practising fine motor control skills!) before Katie decided to sort them out into piles by colour. I'm pretty certain that she does not get this organisational trait from me – but I hope it extends to her keeping her room tidy in years to come!
I then got Katie to 'make a puzzle' by arranging the pieces onto a sheet of white cartridge paper. This took some time as she became quite precious about the arrangement but as the next stage was to soak the whole lot – it needn't have been so precise!
The idea is that the water makes the ink from the tissue paper run onto the paper below. However, you can of course get tissue paper that is colour fast (discovered this the hard way) so make sure you look for a packet that says something like 'ink may run'! It's usually the cheaper the better for this one!
This was then hung up to dry overnight before the tissue paper was pealed back to reveal a multi-coloured mess! After Katie helpfully found her heart-shaped cutter in her play kitchen, I used this as a guide to tear heart shapes from the multi-coloured paper to adorn our Valentine's Cards.
For the base, I simply cut some thicker card down to be small cards – Katie then put a liberal amount of glue onto the back of the hearts before thumping them down onto the front of the card.
Katie enjoyed 'writing' the cards by drawing pictures of the people she was sending them too – some in a more flattering pose than others. I'm sure all her nursery teachers will be delighted that they all have very long legs!
All in all, a straight forward but pretty effective craft-time!
Pin this one for later: