We rarely stay at home over weekends, generally opting to go explore castles or just wander along the shore at Crammond. Last weekend's weather was so horrific that we made the unusual move of staying in with the kids. I have. of course, already written about our gingerbread biscuits but we also embarked on making some salt dough decorations for our (soon to arrive) Christmas tree.
I've always had a strict colour theme for our tree – red and gold – but this year Katie is quite adamant that Santa only likes BLUE. A more accurate statement would be to say that Katie likes blue but I'm happy to go with this.
Our existing decorations were by no means purchased at any great cost and were also chosen before we had kids. They possess a bit of nostalgia for me, but really for no one else in the family. I have many happy memories of Christmas tree decorating as a kid because I had made or chosen the decorations we were putting up, or because there were stories attached to the decorations. Whilst I'm not saying we have to ditch all the old decorations I certainly don't have stories I would want to tell the kids about them!
With that in mind, I thought we should set about making some decorations with the kids with the old go- to material: salt dough.
Salt dough is actually super easy to make from store cupboard items, you can make different amounts as long as the ratio of salt to flour remains the same. All you need is:
1 cup of table salt
2 cups of plain flour
1 cup of water
All you need to do is mix the salt with the flour and then gradually add the water bringing the whole lot together with a metal spoon. You can add vegetable oil if you want it to be a bit softer or even essential oils if you want them scented – but this time round we just went for the straight forward stuff.
Once mixed together, you need to kneed the dough for roughly 10 minutes until it's smooth. I should add that this can really be harsh on your hands – using your knuckles to kneed would be a big mistake. I have VERY red hands as testament to this lesson. Using the heals of my hands was much better.
I gave both Katie and Ben a chopping board to work on and then divided the dough between them, giving them a rolling pin each, some assorted cookie cutters and clay modelling tools to work with. It was really interesting to watch them work – Katie went a bit more 'free form' with her ideas but generally was very good at rolling out the dough (although I did not have high expectations to begin with), Ben created a really cool layered ornament using different size cutters but lost interest much sooner than Katie.
For Thomas, I simply cut a circle out using a mug before imprinting Thomas' hand. If I had thought of it sooner, I would've painted his handprint to look like a Santa Claus but I had already put a hole through the dough!
I figured this would be a very nice keep sake to bring out at Christmas, but know from childhood that salt dough does not have the same shelf life as getting this done by a proper ceramicist. Even if it's kept in an air tight box over the year, it eventually degrades after about 15 years – you can tell I'm still mourning the loss of my childhood Christmas tree ornament!
Once done, we either put hole through the decorations or stuck a paper clip in the top to act as a hanging point. Then it was just a case of leaving them to dry. You can leave them for days to dry out or just bung them in the oven on a low temperature for 3-4 hours.
Ben will get to paint his next time he is with us, but we decided to embark on painting with Katie on Monday (it was raining – again). Although you can use poster paints, acrylics usually come out much brighter so we opted to use these.
With Katie's 'blue' theme in mind, I thought rather than only searching for exclusively blue decorations (there really aren't that many!), it would look stylish to combine it with silver. For that reason, I initially only set out blue paint to cover the decorations – this meant that all of them at least originally had a base colour.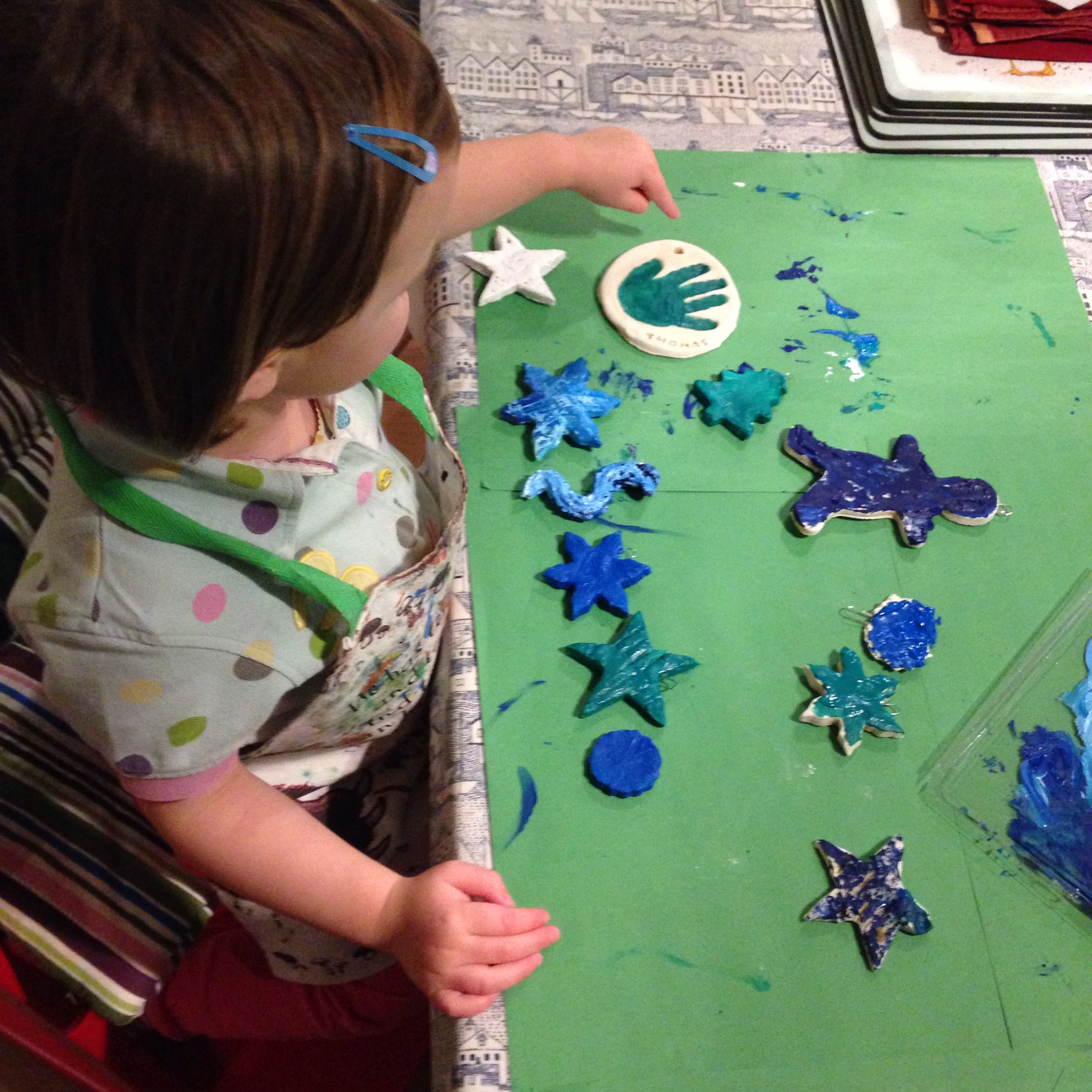 However, yesterday's painting session didn't quite go to plan in which I was just planning to set out silver – so we've got something a bit more colourful! I have a sinking feeling that 'colour themes' don't happen when there's a collective family effort involving small children – but I can live in hope. I still think they turned out kind of cool:
The final stage will be to cover them in watered down PVC 'gloopy' glue. This hopefully will make them nice and shiny ready,  for our tree!