This week I have really been feeling low. I've got a lingering cold/cough and my head has just felt like fluff. My instinct has been to hibernate and just stay home a bit more than normal so it's no surprise that my topic for today is pyjamas!
I've been thinking a lot about Christmas this year as it's our first one with baby Thomas. In previous years, I've been very keen to continue the traditions my family had when I was a child, but this year I was keen to start some of our own.
In my family we have always taken it in turns opening presents – starting with the youngest and working our way up. These present opening 'rounds' are spread throughout the day and there has never been any frenzied unwrapping – each and every gift has drawn everyone's attention before either being recorded so that a thank you note could then be issued, or the giver could be thanked in person. The times I have been at events where everyone just unwraps everything, all at the same time, I've actually found myself feeling incredibly anxious. I think this was largely down to worrying that I wouldn't know who to thank or even knowing who all the gifts were from! But of course, I really blame my Mother (haha).
Although I can remember getting lots of presents as a child, I know that we have probably gone overboard many years with our children. I find that I often 'guilt buy' for my step-son Ben, worrying that he might feel that we don't get him as much as Katie. In reality, he of course has multiple 'Christmases' and gets far more than anyone else. Not to sound like Scrooge, but I really felt that things had gotten a bit much – and after talking to Mike, he definitely agreed.
It was for this reason, I was really taken with the '4 Gift Christmas Challenge' proposed by Chrystie of moneysavingsisters. Quite simply, you only buy each family member 4 gifts – something they want, something they need, something to wear and something to read. This really appealed to me as the need/wear category would be things I would naturally have to buy the kids anyway which really cuts down on the excess present buying. With the bonus that it also means that I've really been focusing on working out what ONE thing the kids really want. I feel much happier this year about the whole event.
However, I was also keen to add in the 'Christmas Eve' box. This is basically a goody box that will contain gifts that help them prepare for Christmas – so maybe a movie, book, cookie cutters (to make Santa cookies) and of course, festive pyjamas! I'm totally looking at the positives and think that getting the kids to go to bed on Christmas Eve is impossible, so in my mind, they at least should look cute in new pyjamas!
On that note, here are my top PJs for Christmas 2015:
1. Polarn O Pyret
I love POP for a number of reasons – firstly, the quality. These clothes are designed to be handed down. For that reason, they have to stand up to being washed, frequently, for many years. I love that they come out of the machine as bright as they went in. You're not picking threads off the cuffs or finding things have gone slightly misshapen. In short, they're great value for money, particularly when you calculate how many kids could wear them over time.
Secondly, in my opinion, so many of the design are unisex – I'm sure that Thomas will be wearing many of Katie's t-shirts in years to come (maybe not the leggings) but I've been super impressed with many of their gender neutral designs – so these are definitely on my list:
They are available either as onesie for younger children or in two parts for older kids – so if I was really keen, I could have all three kids matching. Plus I love the design – what more do you want?
2. The Little White Company
All our bedding is from The White Company and I really wouldn't want to have anything else. I've not bought a lot of clothing from them but think I would make an exception for these more traditional look sleepsuit. Although they have a great selection of more contemporary designs, I think this is really cute: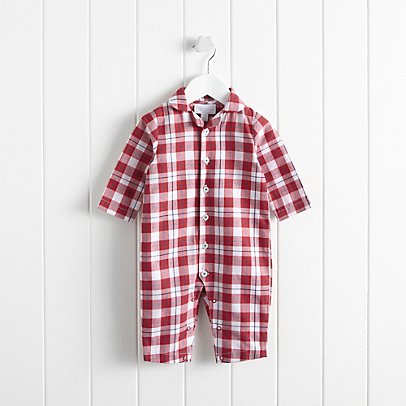 For something more overly feminine, I would totally opt for this nightdress. Katie generally wears nightdresses more in the summer but there's no reason she couldn't in winter, and I think she looks adorable in them. This combo isn't 'matchy matchy' but would make for a very photogenic group of kids on Christmas Eve/Morning.
3. Gap
We've had many pairs of GAP PJs over the years, many of which are hand-me-downs from friends, so the quality is obviously quite high. I do however find that they size quite small and the PJs are a close fit – which may not be everyone's bag but pretty perfect for my wee girl. These again caught my eye as gender-neutral if you wanted your kids to match: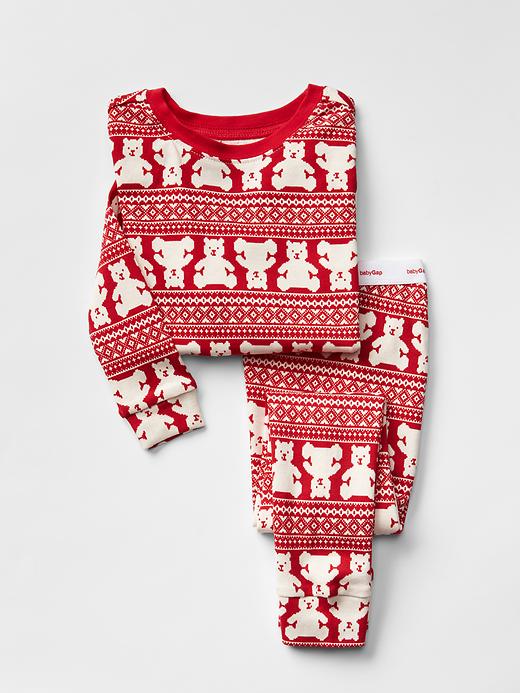 4. Hatley
Finally, my absolute favourite – Hatley Patterned Trees Romper and PJ Set. Katie has a pair of Hatley PJs that we received as a gift when she was one year-old. She is still wearing those pyjamas – despite the fact that the top is now cropped and the trousers are more like capris! I rather suspect it's because she likes the pattern (strawberries) but hope it's because of the comfort level. Try as I might, I have failed to find a bigger pair in the same pattern so I'm going to try for a Christmas wish that she'll love these just as much.
Whilst they are marketed as 'girls' and 'boys' PJs – I personally wouldn't have any qualms about dressing my children in either! That said, I think this combo would look divine on Katie and Thomas this Christmas – plus, they're currently reduced in the Black Friday Sale (27th Nov. 2015)!
However, if any one reading has a pair of Hatley Strawberry PJs (size 4) that are no longer needed – that would be the best present ever!
Finally, the only other thing I'd wish for the kids this Christmas Eve is for their goodies to come in a box like this: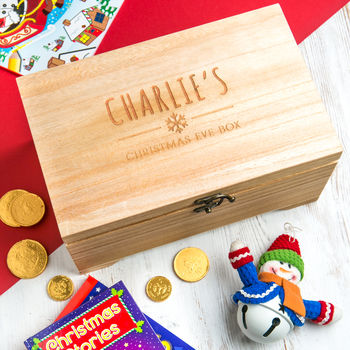 Obviously, at £24.99 it's not within my budget this year but as something you could use year after year – I'm certainly tempted. However, think I'll be settling for a shoe box and some Christmassy magic with a Sharpie!
Have you got any Christmas traditions? Are you doing Christmas Eve boxes? I'd love to hear anyone's ideas as mine are very much still in the planning stages!